Pro-Line Racing -
Item No.
PRO906741
1/8 Badlands MX M2 Front/Rear Buggy Tires Mounted 17mm Black (2)
Awesome Motocross-Inspired Appearance
Incredible Traction on Loose, Loamy or Muddy Terrain
For use on Standard 17mm 1:8 Hexes
Greater Stability and Connectivity
Made in the USA
(2) Pre-mounted Badlands MX Tires Mounted on Black Velocity Wheels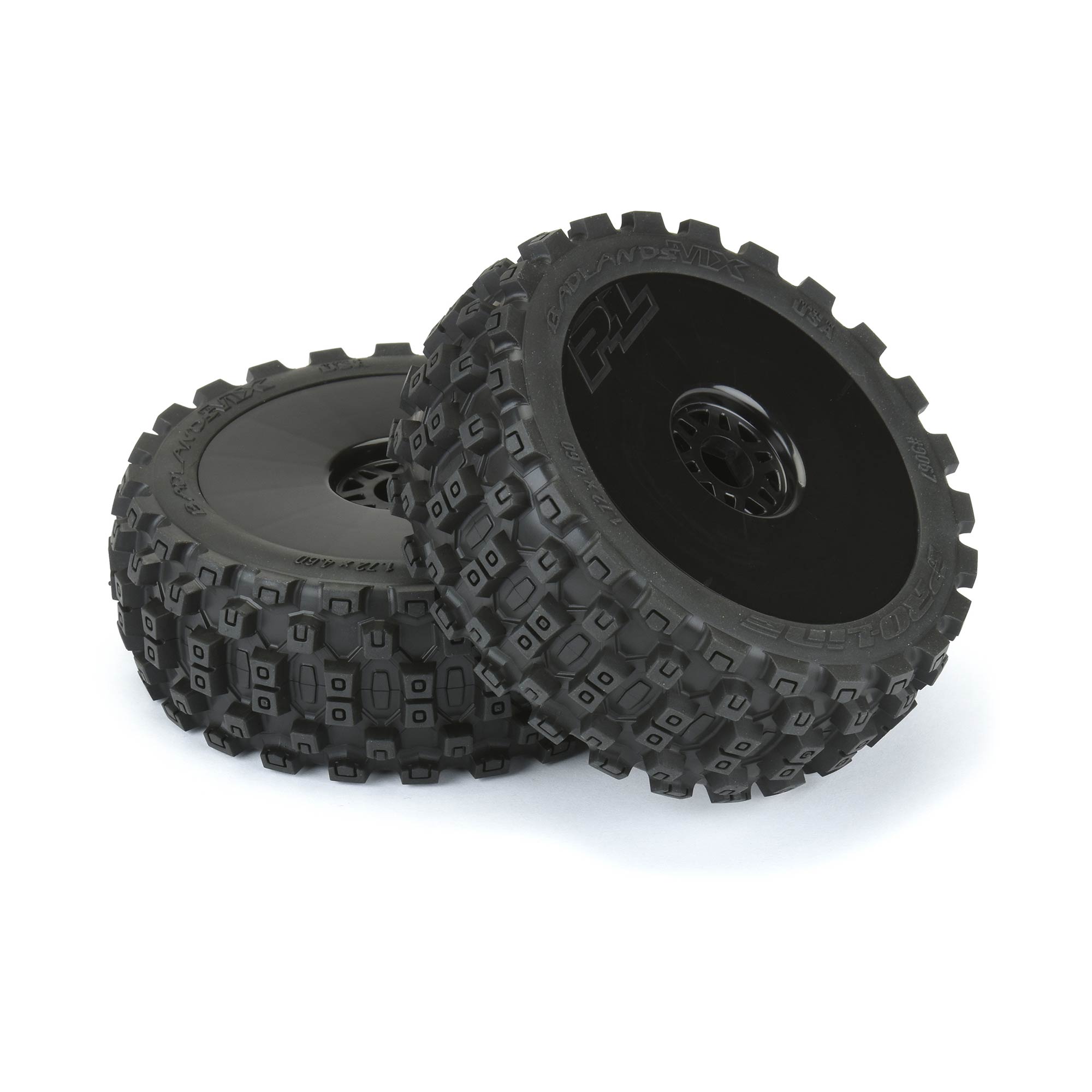 Overview
This is a pair of Pre-Mounted Badlands MX Tires for 1/8 Buggy. Pro-Line is taking the 1/8 Buggy tire game to the next level with the Biggest and Baddest tire ever conceived: the Pre-Mounted Badlands MX! Pro-Line Badlands tires are known for having sweet Motocross inspired tread and the Badlands MX tires kick that up a notch with a Bigger and Bolder knobby tread that matches modern MX tire design. The Badlands MX is a true All-Terrain tire that will find traction on any surface but is best suited for loose & loamy dirt, mud, or grass. Just imagine your buggy throwing up huge rooster tails with these awesome looking tires!
Now these iconic Badlands MX Tire is Pre-mounted on Velocity Wheels so you don't have to worry about gluing your own tires or waiting for them to dry. All you need to do is slap them on your buggy and get to ripping up the dirt! Be the first on your block to get the Badlands MX tires - Order yours today!
Please note: All tires & wheels are sold in pairs, unless otherwise noted
PRO906741 | Badlands MX M2 (Medium) All Terrain 1/8 Buggy Tires Mounted on Black 17mm Wheels (2) for Front or Rear
Features
TIRE FEATURES
Awesome Motocross-Inspired Appearance
Bigger, Bolder, and Badder than Ever
Incredible Traction on Loose, Loamy or Muddy Terrain
Improved Wear Resistance Combined with Modern Style
Made from Pro-Line's Legendary M2 Race Rubber
Less Time Gluing and More Time Having Fun
Made in the USA, since 1982
WHEEL FEATURES
Greater Stability and Connectivity
For use on Standard 17mm 1/:8 Hexes
Extremely True Finish
Made from High Strength Nylon
Fits
Product Fitments
No results for your given fitment filters
Product Specs
Inner Tire / Outer Wheel Diameter
3.3 in
Product Width
1.72" (44 mm)
Insert Material
Closed Cell
Product Height
4.6" (117 mm)
Quantity Option
2 in a package
Tire Compound
M2 (Medium)
Compound / Hardness
Medium
Track Surface
All-Terrain / Backyard
Wheel Position
Front/Rear
Front or Rear
Front and Rear