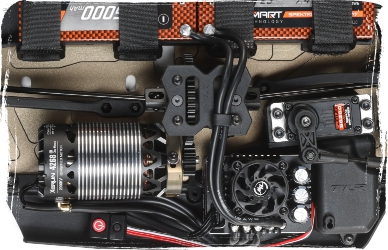 Since the earliest days of RC car racing, electric has been the most popular powertrain for general use. The convenience and ease of electric RC power suit all ages and levels of drivers. Unlike nitro, there's no oily exhaust residue to be cleaned up after every run. Plus, electric technology has advanced well beyond the capabilities of NiCd batteries and brushed motors.
With today's LiPo batteries and brushless motors, RC electric powertrains easily deliver the high speeds that could previously be reached only by nitro-powered cars. In fact, an electric RC vehicle holds the current world record for the fastest RC car, clocked at over 200 mph!
Take a couple of charged batteries with you to the track and you're set for a day of electric RC racing fun without stopping to recharge. Electric powertrains are much quieter than nitro, making them better for running indoors — and for racing at an outdoor track or in any public location that might have noise restrictions.
See