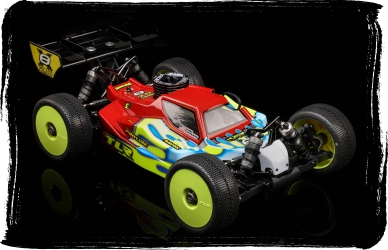 A 1/8 scale RC chassis is, naturally, somewhat larger than 1/10 scale — about one-eighth the size of a full-size vehicle. Most RC drivers preferred nitro-powered 1/8 scale vehicles over electrics until brushless motors and LiPo batteries arrived on the scene. Then, the popularity of 1/8 scale RC electrics soon matched that of nitro. Though more expensive than 1/10 scale, 1/8 scale RC vehicles are also faster and more forgiving to drive. They're engineered with extra durability to handle the demands of their greater size and weight. And the realism of 1/8 scale RC racing, especially nitro, is as good as it gets. Most racing is done at outdoor dirt tracks, filled with the sounds, smells, and excitement of a full scale event.
The focus is less on being faster than other drivers and more on beating the challenges of the track itself.
There are two classes — buggy and truggy — with electric and nitro power about equally popular. At most 1/8 scale nitro RC races, the drivers are supported by a pit crew. The "team" feel appeals strongly to many racers. ROAR holds national championships for nitro and electric 1/8 scale RC buggies, and for 1/8 scale RC truggies. The only 1/8 scale competition from IFMAR is for nitro buggies.
See