Team Losi Racing -
Item No.
TLR03026
1/10 22X-4 ELITE 4X4 Buggy Race Kit
Even though the 22X-4 won the ROAR Nationals, the next generation is hot on its heels. The Team Losi Racing® 22X-4 Elite Race Kit has everything that made the 22X-4 a podium pleaser and more.
Center Diff Included
Aluminum Option Parts Included
Geometry Updates
Tab Style Battery Mount
Center Diff Fan Mount
(1) Team Losi Racing® 22X-4 Elite Race Kit
(1) User Manual
(1) Transmitter and Receiver
(1) Steering Servo
(1) 2S LiPo Shorty Battery
(1) Compatible LiPo Battery Charger
(1) 48P Pinion Gear
(1) Motor
(1) ESC
(1) Tire Glue
(4) Tires
(4) Wheels
Polycarbonate Paint
Tools (Please reference the manual for more details)
Features
Center Diff Included
Pro Level Ready
Aluminum Option Parts Included
Geometry Updates
Tab Style Battery Mount
Center Diff Fan Mount
Titanium Turnbuckles
G3 V2 3mm Shaft Shocks
Gear Diffs
Adjustable Inner Pivots
V2 Floating Servo Mount
Optimized Composites
Adjustable Motor and Battery Position
22X-4 Lightweight Body
Carbon Fiber Optimized
All Metric Hardware
TLR 6.5" Rear Wing
Easy Access Diffs
Destined For Greatness
Even though the 22X-4 won the ROAR Nationals, the next generation is hot on its heels. The Team Losi Racing® 22X-4 Elite Race Kit has everything that made the 22X-4 a podium pleaser and more. The Elite level kit includes popular option parts like a center diff, aluminum drag link, carbon fiber electronic mounting plates, carbon wing washer, aluminum locknuts, and titanium turnbuckles to lighten and optimize the 22X-4 to maximize performance. Designed to win straight out of the box, the 22X-4 ELITE Race Kit is tough to beat with features and performance destined for the top of the podium.
Video Overview
TLR 22X-4 ELITE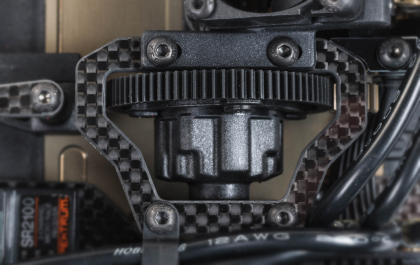 Center Diff Included
The most popular tuning option for the 22X-4 has been the change to a center diff, especially for dirt and clay tracks. So of course, the 22X-4 ELITE would not be truly ELITE without the center diff included.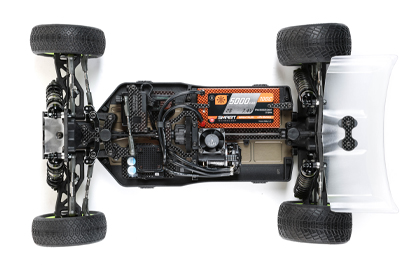 Pro Level Ready
Including all of the key option parts that our factory team uses to win races across the world, the 22X-4 ELITE is truly Pro Level Ready from a kit build right out of the box... more so than any 4wd buggy kit ever offered. Parts include Carbon Fiber, Black Anodized Aluminum and Titanium turnbuckles. The option parts and upgrades included value at $130.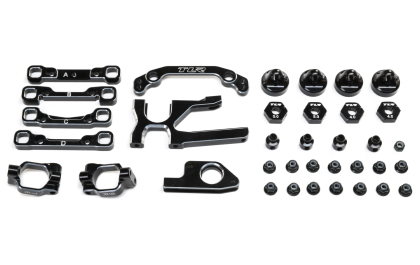 Aluminum Option Parts Included
As the team has found many of the optional aluminum parts for the 22X-4 to improve maintenance or performance, we've included those in the kit as well. Aluminum parts included are the drag link, caster blocks, all four inner pivots, motor mount, front and rear hexes, ball stud washers, and aluminum nuts throughout.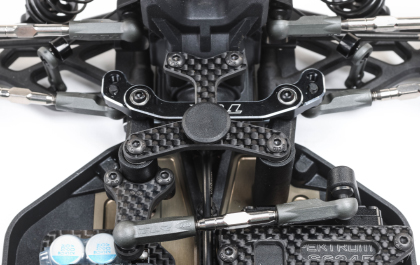 Geometry Updates
The 22X-4 was an all-new car, and after racing it around the world for the last couple years, we've found ways to make it even better. Additional shock mounting locations, inner camber link locations, smoother ackermann and steering gain locations all just keep getting the 22X-4 ELITE easier and easier to drive faster and faster.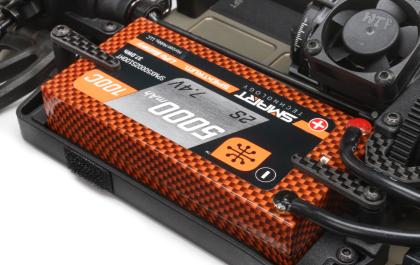 Tab Style Battery Mount
Keeping the battery in while you're running, and getting it out easy when it's time to charge is just something we thought we could do better. Carbon tabs hold the battery down, with adjustable height to accommodate any battery, thin or standard height. Easy in, secure while running, easy out, done.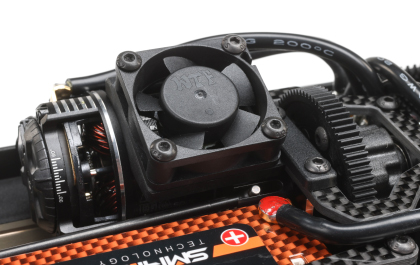 Center Diff Fan Mount
The prevalence of high grip tracks and the 13.5 4wd class have led to the need for many racers to run motor fans to keep temperatures in check. Rather than an aluminum mount, or double-sided tape, the 22X-4 ELITE includes a molded fan mount secured to the center diff to blow air directly down into the motor for the coolest temps the most power.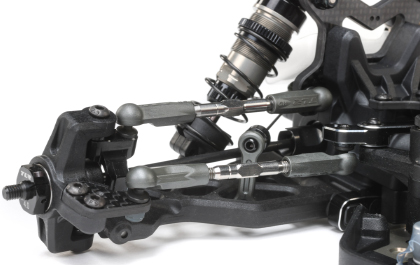 Titanium Turnbuckles
Titanium turnbuckles have always been a premium upgrade for race vehicles, and we just couldn't do the 22X-4 ELITE without them. Included are titanium turnbuckles throughout the buggy to save weight and increase performance.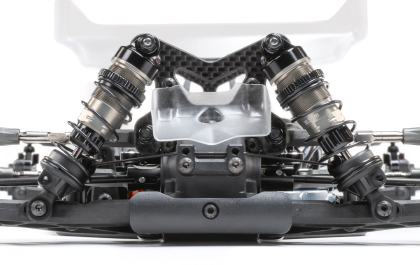 G3 V2 3mm Shaft Shocks
The G3 V2 shocks give the 22X-4 the plush handling and consistent, leak-free bleed with some ease of use improvements. No more e-clips as the pistons are now secured by screws, new shock caps and shock bodies increase the spring collar height by 3mm to accommodate lower ride heights, new eyelets and spring cups provide -3mm, 0mm and +4mm spring cup off-sets and paired with all new eyelets will never pop off with the screw in feature.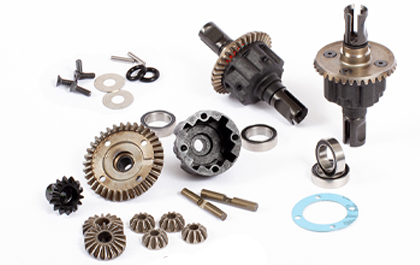 Gear Diffs
Designed to be light and durable, the 22X-4 is designed with large volume bevel gear diffs for the ultimate in performance and durability. The kit includes all metal diff internals and ring gear, but TLR has you ready also with composite diff internals and ring & pinion gears available as option parts.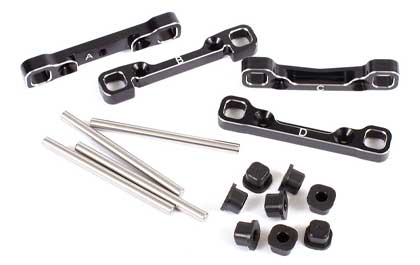 Adjustable Inner Pivots
Included for the front and rear, the adjustable inner pivots give multiple adjustments for anti-squat, kick up, toe, sweep, pivot width, and roll center. This gives the 22X-4 ELITE the windows needed to get it dialed in for any driver, any track and any surface.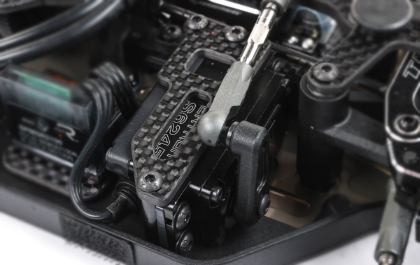 V2 Floating Servo Mount
To keep the servo mounting from affecting the chassis flex, the servo is mounted hanging above the chassis. The mount only secures to the chassis near the chassis centerline, then uses rigid 2.5mm carbon fiber to support the weight and leverage of the servo to optimize steering performance and chassis flex. The V2 version also accommodates all servo off-sets.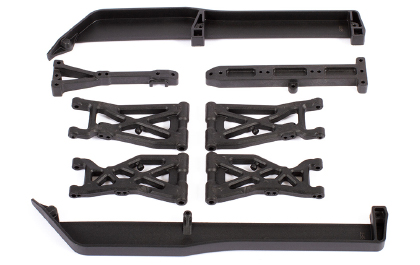 Optimized Composites
The balance and consistency of the 22X-4 ELITE can be tuned using different composite materials in key parts throughout the vehicle. The kit included the parts the race team prefers: Standard front and rear suspension arms, soft mudguards, and standard chassis braces.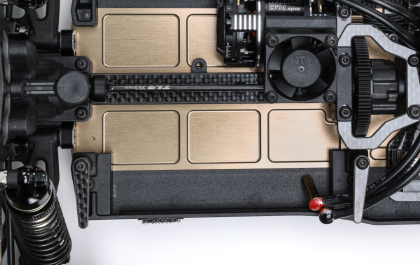 Adjustable Motor and Battery Position
Continuing the theme of maximum adjustment, the 22X-4 ELITE allows for the center differential and motor mount assembly to be mounted in either front and rear positions, with 7mm of adjustment between them. The battery also has an additional 9mm of adjustment for solid changes to front/rear weight balance without the need to increase the static weight.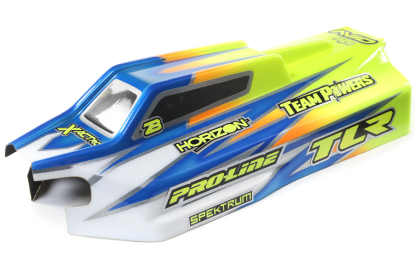 22X-4 Lightweight Body
Sleek, stylish, and lightweight, the 22X-4 body design is the perfect match to the chassis. It looks sleek and fast, is nice and low but provides excellent balance and stability - the best of all worlds.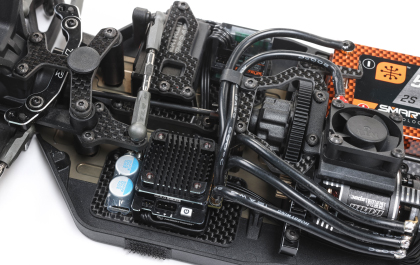 Carbon Fiber Optimized
Carbon fiber is extremely light and very rigid, giving it a great strength to weight ratio. It is optimal for many parts of an r/c car, the and 22X-4 ELITE has it mounted in all the key spots: Front Shock Tower, Rear Shock Tower, Center Diff Mount, Front Chassis Brace, Rear Chassis Brace, Front Steering mount, Servo Mount, and Electronics Mounting Plates.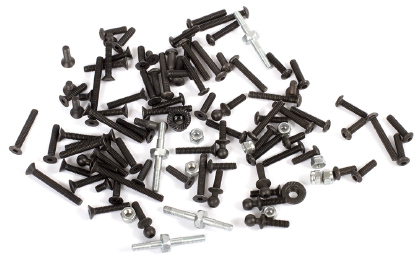 All Metric Hardware
Using all metric hardware make it easy to find replacement screws, nuts and washers, and helps to limit the number to tools required in the toolbox.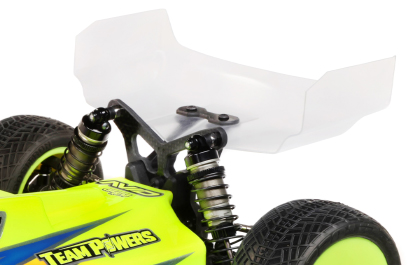 TLR 6.5" Rear Wing
Pulled from ultra-durable 1.2mm polycarbonate, the TLR 6.5" rear wing isn't new for the 22X-4 ELITE. Instead, this wing has proven itself as the longest lasting and most stable rear wing available for 1/10 buggies over the past few years - and it comes in your kit.
Easy Access Diffs
Designed to be user-friendly, the 22X-4 ELITE allows the front and rear diffs to both be removed by only removing 4 screws and loosening 2 set screws. Out in less than a minute, and back in just as quickly.

Product Specs
Differential
Oil Filled, Gear Differentials
Shock Type
12mm Big Bore, Oil Filled
Approximate Assembly Time
3-5 Hours
Body
22X-4, 0.7mm Lightweight, Clear
Product Width
9.8" (249 mm)
Ball Bearings
Full Rubber Sealed Ball Bearings
Chassis
2.5mm Milled Plate, 7075-T6 Aluminum
Product Height
5.8" (147 mm)
Product Length
14" (356 mm)
Suspension
Lower A-Arm, Upper Adjustable Link