Pro-Line Racing -
Item No.
PRO358100
1/10 Axis ST Clear Body: TLR 22T 4.0 & AE T6.2
Designed with the Latest in CAD Technology
Super Low-slung Design with Sharp Lines Throughout
Enhanced Steering Response Combined with Ideal Side-Bite
Fits both the TLR 22T 4.0 & AE T6.2 Race Trucks
Made in the USA
(1) Axis ST Clear Body for TLR 22T 4.0 & AE T6.2 With Two Wings Molded In
(1 Set) Window Masks
(1) Decal Sheet
(1) Paint then Peel Overspray Film on Body
(1) Set of Wing Mounting Hardware - M3 x 6mm Button Head Cap Screws (4 pcs) & M3 Nuts (4 pcs)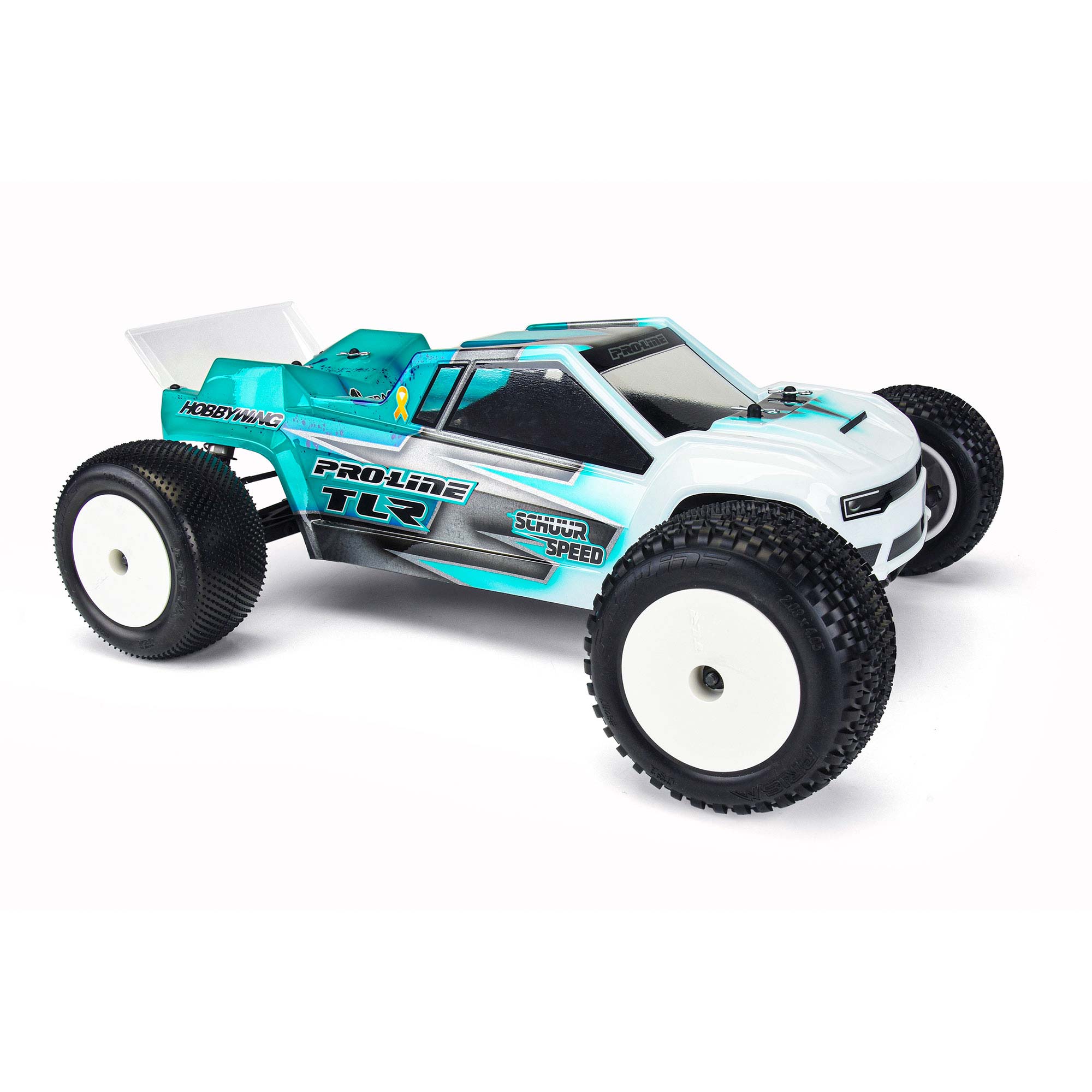 Overview
Introducing the all-new Axis ST series of race bodies for 1:10 Stadium Truck, a clean-sheet design from Pro-Line bringing a fresh new look to the class. Designed with the latest in CAD technology, the Axis ST features a low-slung design with sharp lines throughout giving it an unmistakable look on the track. The Axis is a cab-forward design that provides an enhanced steering response to get you around the track faster than ever. The rear of the Axis body has the right amount of clearance for running the rear shocks either in the front or the back of the shock tower. Pro-Line includes two rear wings per body in case you need a replacement.
Don't forget to submit your finished Pro-Line body to Reader's Rides when you are done. Who knows, you could get your ride posted on the blog and you could even win a prize!
This is sold as a clear and unpainted body. Image of the painted body is only to display details. No vehicle chassis is included with this product.
PRO358100| Axis ST Clear Body for TLR® 22T™ 4.0 & AE T6.2
Features
Designed with the Latest in CAD Technology
Super Low-slung Design with Sharp Lines Throughout
Enhanced Steering Response Combined with Ideal Side-Bite
Fits both the TLR® 22T™ 4.0 & AE T6.2 Race Trucks
Paint-then-peel Overspray Film Built-in
Made with Crystal Clear Polycarbonate
Made in the USA, since 1982
Four Steps to Race Ready
Clean Body and apply included window mask
Paint then peel the over-spray film off
Sticker your body (decal sheet included)
Mount your new body onto your Truck
Fits
Specs
Product Fitments
No results for your given fitment filters
Product Specs
Vehicle Type
Stadium Truck
Product Width
5.5" (140 mm)
Product Height
4.3" (109 mm)
Product Length
15.3" (389 mm)