Team Losi Racing -
Item No.
TLR03015
1/10 22T 4.0 2WD Stadium Race Truck Kit

The TLR® 22T 4.0 Stadium Truck kit takes the competition proven on-track performance of the 22T 3.0 and gives it an advanced, mid-motor laydown transmission treatment. With the wider track width and the relatively shorter chassis of the truck class, TLR engineers and the race team demanded higher development of the 22™ platform. The result is a next-level platform expected to dominate the ROAR National Championships.
The laydown transmission moves the motor forward to a central motor location. This helps the 22T 4.0 drive much flatter, more consistent and corners quicker on higher grip surfaces. Still fitting a brick pack, saddle pack, or a shorty pack mounted across the chassis, drivers can maximize performance with best weight bias for all surfaces. In short, we've taken the race winning 22T 3.0 and added the "laydown" setup to maximize the performance.
Key Features
Based on the Championship-Winning 22T 3.0 Stadium Truck
Race-Proven, Mid-Motor Laydown Transmission
Option and Tuning Parts Included
Clear 22T 4.0 Polycarbonate Body
More Durable Aluminum Plate Rear Hub
Laydown Rear Shock Mounting Provides More Tuning Options
Easy Ballast Tuning Options to Compete with Changing Track Conditions
State-of-the-Art GenII 12mm Big Bore Shocks
Lightweight 7075-T6 Aluminum Chassis
Fully Updated Ball Differential
Transverse Battery Mounting for the Perfect Balance
Adjustable Toe and Anti-Squat Capability
Long-lasting, Heavy Duty Slipper (HDS) pads

Option and Tuning Parts Included
The 22T 4.0 comes loaded with optional upgrades like machined 7075-T6 aluminum top shaft, motor plate, rear camber block, clamping rear hexes and ball stud spacers throughout. In addition, aluminum bleeder shock caps and machined shock pistons are also included.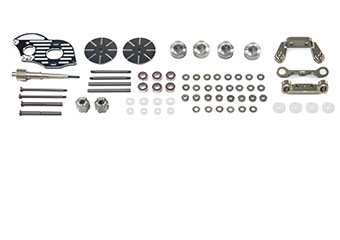 Laydown Transmission
The laydown 3-gear transmission moves the motor forward by 20mm+ to a more centralized location. The benefit is a chassis that drives much flatter and carries more corner speed.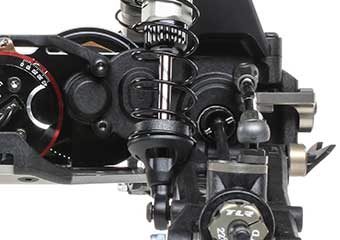 Aluminum Plate Rear Hub
The 22T 4.0 includes a 2-piece rear hub carrier that features an aluminum plate. The hub base is molded composite, allowing a press bearing fit without play and minimal unsprung weight compared to an aluminum hub. The aluminum plate is secured to the hub with a M3 screw and ball stud, which is vertically adjustable. As a result, the rear hub is supported by aluminum keeps from pushing or pulling out, while still threading into composite so it cannot work loose.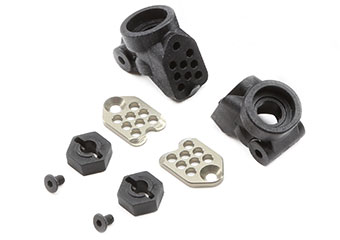 Two Shock Mounting Options
With the laydown configuration and a stylish 22T 4.0 body, the GenII rear shocks can be mounted either in front of the rear tower and suspension arm, or in the traditional location to the rear. This has become a popular tuning option for higher grip surfaces that increases forward weight bias and rear end stability.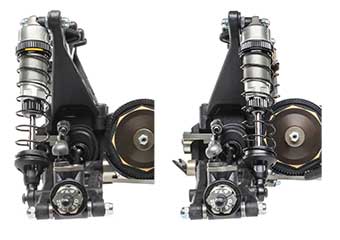 Ballast Tuning Options
Running a higher static weight helps the chassis become more neutral and easier to drive on ultra-high grip surfaces. The 7075-T6 aluminum chassis is designed to accept massive brass plates below the battery so that you can make a quick static vehicle weight tuning modification and contend with changing track conditions (Tuning Ballast Weights sold separately).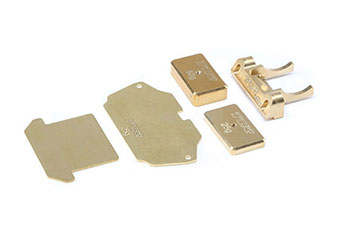 22T 4.0 Body
The 22T 4.0 includes a body that's a fresh take on the challenge of creating a shape that fits around the varying rear shock tower and shock mounting options. The solution is molded from 1.2mm polycarbonate and provides an outstanding aero-balance while being robust and durable.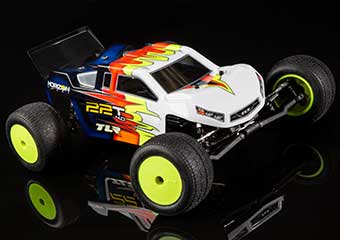 GenII 12mm Big Bore Shocks
The GenII 12mm Big Bore Shocks have set a standard in performance and maintenance. Features include X-Ring Seals, machined shock bushings and machined 2 x 1.6 and 2 x 1.7mm pistons. The shock shafts are TiCN coated. The bleeder screw caps and threaded hard anodized shock bodies are aluminum.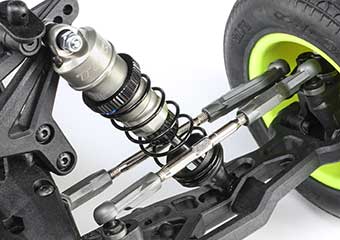 Lightweight 7075-T6 Aluminum Chassis
The 22T 4.0 chassis is all new to accommodate proper battery mounting options. It has also been pocketed for optional brass ballast weights, and to be a lighter kit out of the box.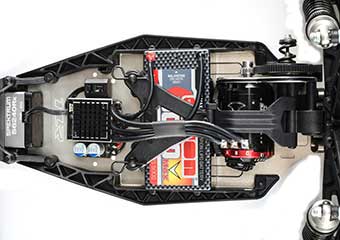 Fully Updated Ball Differential
Using all of the performance parts from the 22 2.0, the ball diff in the 22T 4.0 will maintain the super smooth and long lasting performance benefitting from features such as 2nd operation flattened outdrives, revised thrust washers, tungsten carbide diff and thrust balls, one-piece nut and a self-centering diff gear.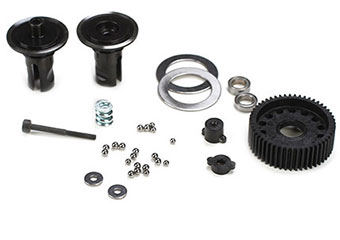 Transverse Battery Mounting
A wider 2.5mm aluminum chassis and molded mud guards create a battery mounting pocket that allows for both saddle and shorty type LiPo packs to be mounting transverse across the chassis and a shorty mounted fore-aft for the ultimate in battery mounting adjustment. This allows more tuning capability front to rear and a wider placement of the battery weight so you can have a more stable setup without increasing the total weight of the truck.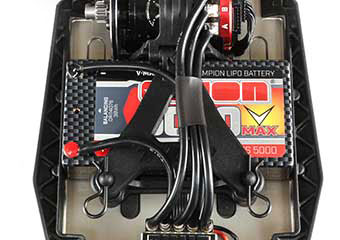 Adjustable Toe and Anti-Squat
Just like the 22™ 4.0, the 22T 4.0 rear pivots now fit adjustable inserts for the rear toe and anti-squat adjustments for quick, easy changes to geometry without the need to buy additional parts. Both are adjustable in 0.5 degree increments-the rear toe adjustments range from 2.5 to 4.0 degrees and the rear anti-squat adjustments range from 0.0 to 3.0 degrees.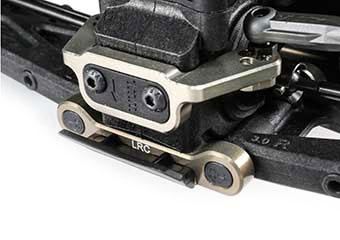 HDS Slipper
The 22T 4.0 will include the Heavy Duty Slipper (HDS) pads and 82T HDS spur gear, plus the grooved and taper slipper plates. Working together, the slipper performance is more consistent, self-cleaning and long lasting.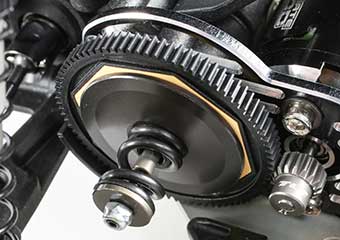 Motor Fan Mount
The prevalence of spec racing has led to the need for many racers to run motor fans to keep temperatures lower. Rather than an aluminum mount, or double sided tape, the 22T 4.0 includes a molded fan mount secured to the mud guard for easy and dependable fan mounting.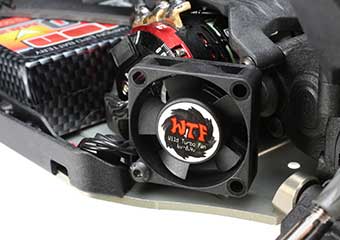 Product Specs
Approximate Assembly Time
3-5 Hours
Body
22T 4.0, Clear Polycarbonate
Brakes
Controlled via Motor/ESC
Differential
Ball Differential
Shock Type
12mm Big Bore, Oil Filled
Front Track
12.9 in (328mm)
Product Width
12.7 in (322mm)
Ball Bearings
Full Rubber Sealed
Chassis
2.5mm 7075-T6 Aluminum
Product Height
5.65 in (143mm)
Rear Track
12.9 in (328mm)
Speed Control
Sold Separately
Wheelbase
11.4 in (290.5mm)
Vehicle Type
Stadium Truck
Internal Gear Ratio
2.43:1
Product Length
13.9 in (354mm) without Body/Wheels
Suspension
Lower A-Arm, Upper Adjustable Link
Wheel Width
1.90 in (48mm)