Spektrum -
Item No.
SPM5115C
DX5C Smart 5-Channel Transmitter Combo with SR315 Receiver
Save money with our combo compared to purchasing the transmitter and receiver separately
Spektrum Smart Technology ready
Program and fine-tune compatible AVC receivers
20-model memory
Smooth, dual-ball bearing precision
(1) Spektrum™ DX5C 5-Channel Smart Transmitter
(1) Spektrum™ SR315 DSMR 3-Channel Sport Receiver
(1) Product Manual
Smart Technology — More connected for more confidence and control
Spektrum™ Smart Technology is about offering a higher connection to your hobby. It's an RC ecosystem that puts you in complete control while making vital components of your model easier to use than ever before. Smart technology ensures that all of your model's electronics work together seamlessly for the greatest efficiency and performance. It keeps you aware of every component's status, boosts your confidence in its capabilities, and makes your entire system more responsive and simple to use.
Spektrum radios with Smart features can download firmware updates instantly using Wi-Fi and can swap setups with compatible radios via Bluetooth. Spektrum Smart LiPo batteries have a built-in microchip that records and communicates your charging preferences automatically to Smart chargers — just connect your pack and press "Start." Smart IC™ series connectors include an innovative data wire that transfers information easily between Smart components with a single connection. Finally, Smart ESCs not only deliver power but also eliminate the hassles from running telemetry. The days of installing and connecting multiple wires, sensors, modules and links are over.
DX5C 5-Channel Smart Transmitter Product Features
5 Fully proportional channels
Spektrum Smart Technology ready
Program and fine-tune compatible AVC receivers
20-model memory
Smooth, dual-ball bearing precision
Frequency-Agile, Spektrum™ DSMR® 2.4GHz technology
Non-Slip Rubber Grips
Back Button Makes Navigating the Interface more Intuitive
Steering Mix, 4-Wheel Steering Mixing, plus One Assignable Mix
Bind-Progress Screen Displays Status and Frame Rate
EN328 Compatible
SR315 DSMR 3-Channel Sport Receiver Product Features
Streamlined design in a compact and lightweight hard-case
Smart Technology Ready
Bind-button eliminates the need for a bind plug
SmartSafe™ Failsafe and Preset "Gas Mode" Failsafe options
Outstanding range and 5.5ms capable DSMR technology
Ideal for nearly any surface RC model
Product Overview
The DX5C is the perfect savvy solution for bashers, boaters and scalers who want a staggering list of advanced features that includes the virtually unlimited possibilities 5-channel control offers. Built around frequency-agile, DSMR® 2.4GHz technology, you can use the DX5C in any type of surface application, including boats. Comfortable ergonomics, lightweight design, a big LED screen and long-range DSMR® technology combine with a feature list aimed squarely at the way you want to drive. The DX5C with the SR315 receiver combo deliver superb range and response, especially in places where a lot of 2.4GHz systems are in use at once.
Spektrum™ Smart Technology Video Overview
Video Overview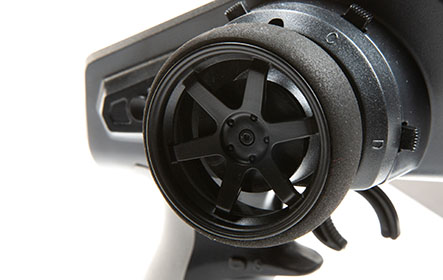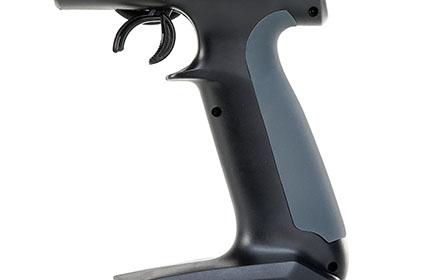 Fits the Way You Drive
The Spektrum DX5C has many advanced programming features. So naturally it comes with advanced-level, comfortable grip, easy to reach controls and LCD display screen.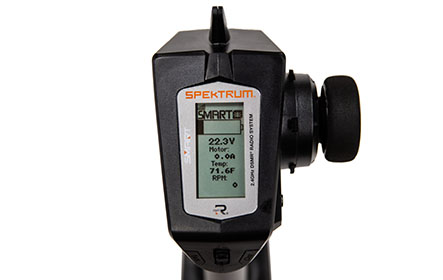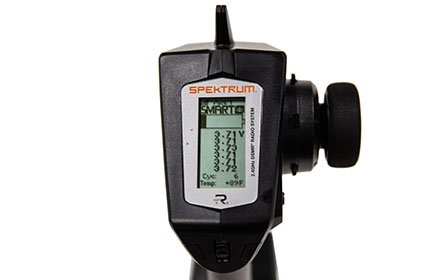 Smart Technology Compatible
When combined with Spektrum Firma Smart ESCs and Spektrum Smart capable receivers, the DX5C receives telemetry data right to your transmitter through the Smart Throttle port on the receiver. Smart Throttle ESCs can send RPM, speed, ESC temp, volts and amp draw.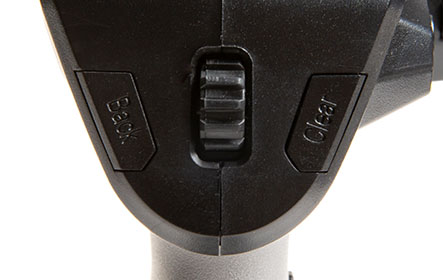 Intuitive SimpleScroll™ Programming Interface
Sophisticated programming isn't worth much if it's a pain to use. The SimpleScroll interface makes navigating menus and changing settings as simple as 'scroll and click.' It's so easy to use; most users can complete complex programming tasks without ever having to look at the manual.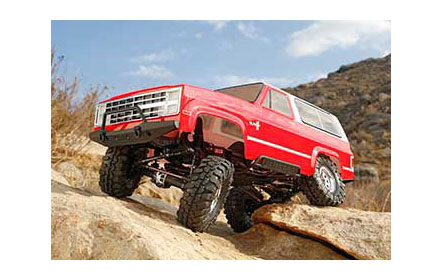 Scaling and Trailing
For getting out in the wild, the DX5C is hard to beat. Not only do you get the versatility of 5-channel control for auxiliary systems such as winches, lights, etc., it's also physically lightweight so that there's less fatigue on you during long trips, plus it's easy to transport with all of your rigs.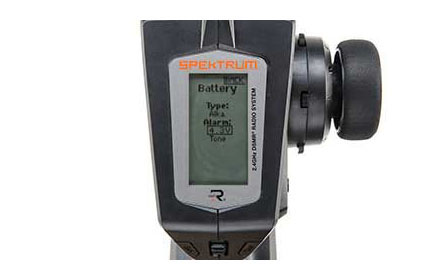 Tone Alarm
Never worry about finding your transmitter battery totally drained again. The built-in tone alarm will alert you whenever the battery voltage is low, or the transmitter is left inactive with the power on.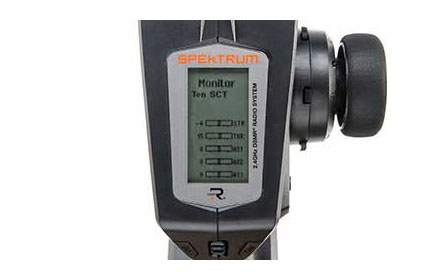 Servo Monitor
See all five channels at work before you even turn the vehicle on. The easy-to-use Servo Monitor system lets you see the channels react to your commands and avoid unintentional interaction.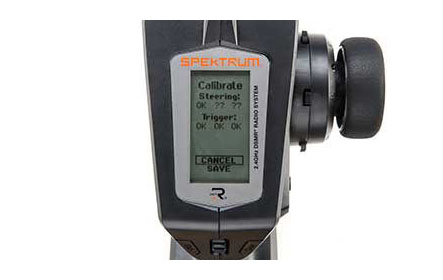 Wheel and Trigger Calibration
The Calibration screen gives you the ability to recalibrate the steering and throttle positions for the ultimate in accuracy.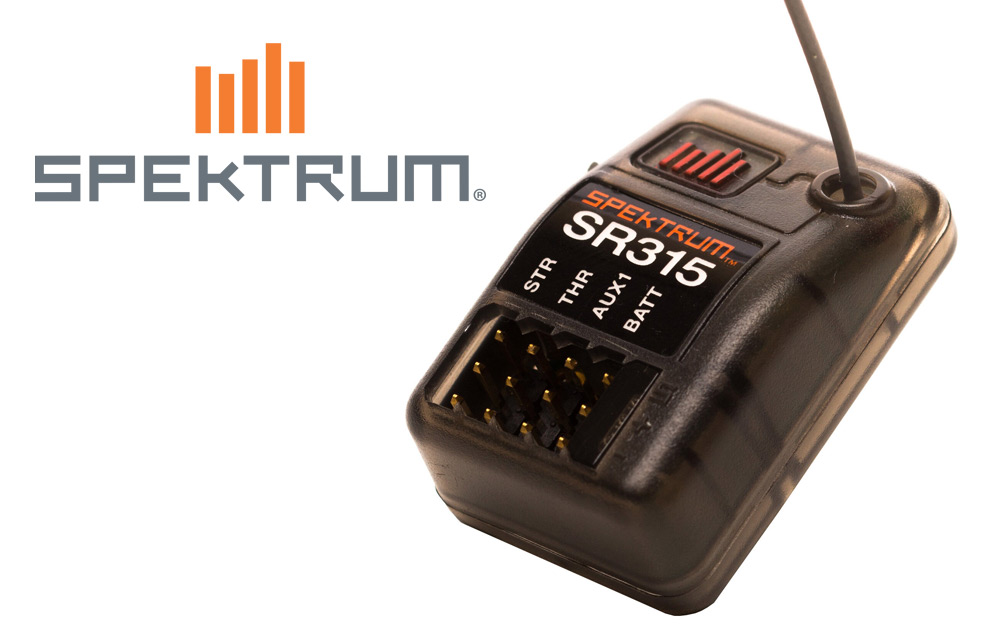 Combo Includes SR315 DSMR 3-Channel Sport Receiver
Built around frequency-agile DSMR technology, the SR315 receiver delivers superb range and response, especially in noisy RF environments where a solid 2.4GHz link is crucial. Not only is the 2.4ghz link solid, this model also implements our lightning fast 5.5ms frame rate, providing a quicker, low-latency connection for the pro-level enthusiast. The SR315 also features a modern case design that is small, streamlined, and ready for nearly any RC application. The case also features added antenna support and an integrated antenna tube slot for seamlessly easy installation.
Product Specs
Transmitter (Tx) Battery Type
AA x 4 (Sold Separately)