Spektrum -
Item No.
SPMR5115
DX5C Smart 5-Channel DSMR Transmitter Only
Smart Technology — More connected for more confidence and control
Spektrum™ Smart Technology is about offering a higher connection to your hobby. It's an RC ecosystem that puts you in complete control while making vital components of your model easier to use than ever before. Smart technology ensures that all of your model's electronics work together seamlessly for the greatest efficiency and performance. It keeps you aware of every component's status, boosts your confidence in its capabilities, and makes your entire system more responsive and simple to use.
Spektrum radios with Smart features can download firmware updates instantly using Wi-Fi and can swap setups with compatible radios via Bluetooth. Spektrum Smart LiPo batteries have a built-in microchip that records and communicates your charging preferences automatically to Smart chargers — just connect your pack and press "Start." Smart IC™ series connectors include an innovative data wire that transfers information easily between Smart components with a single connection. Finally, Smart ESCs not only deliver power but also eliminate the hassles from running telemetry. The days of installing and connecting multiple wires, sensors, modules and links are over.
Product Features
5 fully proportional channels
Spektrum Smart Technology ready
Program and fine-tune compatible AVC receivers
20-model memory
Smooth, dual-ball bearing precision
Frequency-Agile, Spektrum™ DSMR® 2.4GHz technology
Non-Slip Rubber Grips
Back Button Makes Navigating the Interface more Intuitive
Steering Mix, 4-Wheel Steering Mixing, plus One Assignable Mix
Bind-Progress Screen Displays Status and Frame Rate
Program and Fine-Tune Compatible AVC® Receivers
Compatible with DSMR and DSM2* receivers (DSM2 only operates on 16.5ms frame rate)
EN328 Compatible
Product Overview
The amazing DX5C is the perfect savvy solution for bashers, boaters and scalers who want a staggering list of advanced features that includes the virtually unlimited possibilities 5-channel control offers. Built around frequency-agile, DSMR® 2.4GHz technology, you can use the DX5C in any type of surface application, including boats. Its range and response, particularly in noisy 2.4GHz environments, are superb. It's also backwards compatible with DSM2® Spektrum receivers. This means most longtime Spektrum users can continue to use the receivers they have. They'll only need to upgrade if they want the robust 2.4GHz interference protection a DSMR receiver can deliver.
Video Overview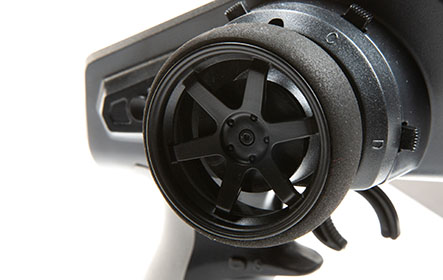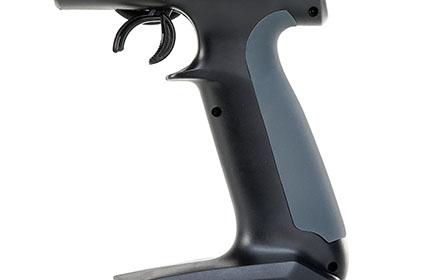 Fits the Way You Drive
The Spektrum DX5C has many advanced programming features. So naturally it comes with advanced-level, comfortable grip, easy to reach controls and LCD display screen.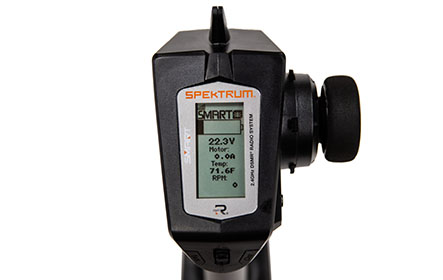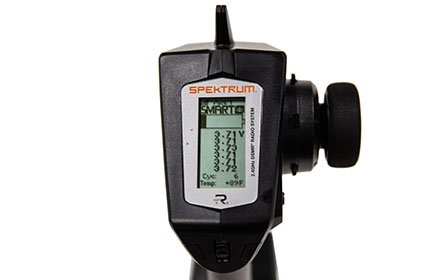 Smart Technology Compatible
When combined with Spektrum Firma Smart ESCs and Spektrum Smart capable receivers, the DX5C receives telemetry data right to your transmitter through the Smart Throttle port on the receiver. Smart Throttle ESCs can send RPM, speed, ESC temp, volts and amp draw.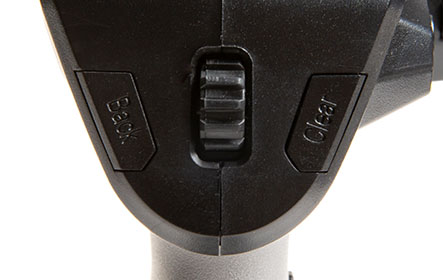 Intuitive SimpleScroll™ Programming Interface
Sophisticated programming isn't worth much if it's a pain to use. The SimpleScroll interface makes navigating menus and changing settings as simple as 'scroll and click.' It's so easy to use; most users can complete complex programming tasks without ever having to look at the manual.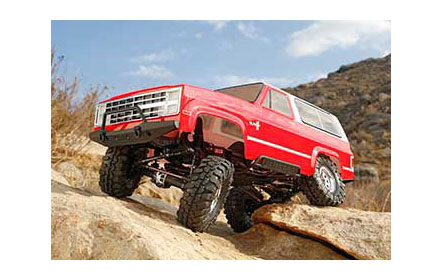 Scaling and Trailing
For getting out in the wild, the DX5C is hard to beat. Not only do you get the versatility of 5-channel control for auxiliary systems such as winches, lights, etc., it's also physically lightweight so that there's less fatigue on you during long trips, plus it's easy to transport with all of your rigs.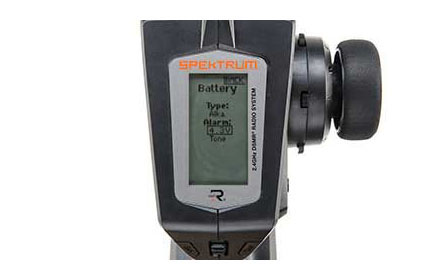 Tone Alarm
Never worry about finding your transmitter battery totally drained again. The built-in tone alarm will alert you whenever the battery voltage is low, or the transmitter is left inactive with the power on.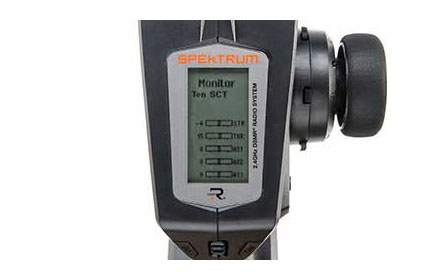 Servo Monitor
See all five channels at work before you even turn the vehicle on. The easy-to-use Servo Monitor system lets you see the channels react to your commands and avoid unintentional interaction.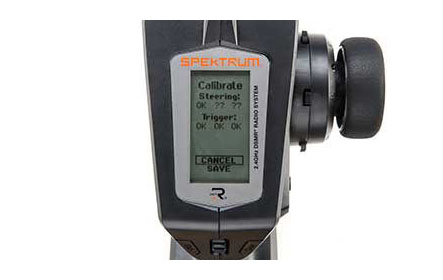 Wheel and Trigger Calibration
The Calibration screen gives you the ability to recalibrate the steering and throttle positions for the ultimate in accuracy.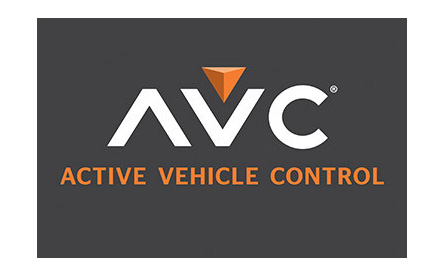 AVC® (Active Vehicle Control™) Programming
The DX5C makes it possible to custom tune the AVC system by providing easy-access to dedicated adjustments. In addition, open channels of the DX5C can be used to adjust the AVC steering and throttle systems independently. No matter what you're driving, AVC technology can easily meet your skill level or driving style with control that makes it feel like you're driving a finely tuned vehicle that handles beautifully at every speed.
Product Fitments
No results for your given fitment filters
Product Specs
Gimbal Type
Not Applicable
Transmitter (Tx) Battery Type
AA x 4 (Sold Separately)
Left / Right Hand Operation
No
Operating System
Raceware
Completion Level
Transmitter Only