Pro-Line Racing -
Item No.
PRO907302
1/8 Hex Shot M3 Front/Rear Off-Road Buggy Tires (2)
Hexagon-shaped Pod Tire Design Concept
Extra Tall Pins for Loose & Loamy Conditions
Long-Lasting Closed Cell Inserts Included
Made in the USA, since 1982
(2) Hex Shot Off-Road 1/8 Buggy Tires
(2) Closed Cell Foam Inserts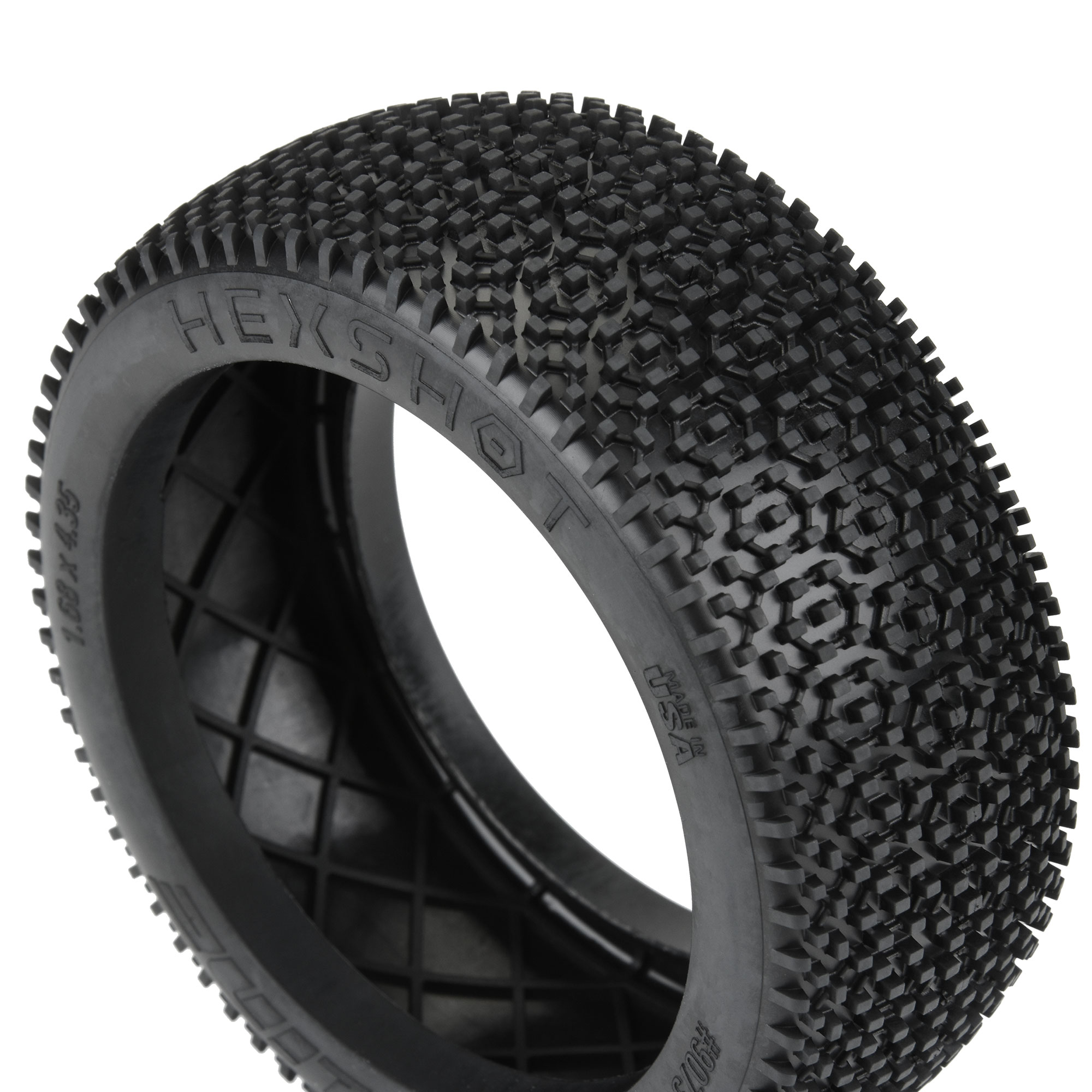 Overview
This is a pair of Hex Shot 1/8 Buggy Tires. Introducing the Hex Shot 1/8 Buggy race tire, a stepped-pin tire designed to tackle loose and loamy tracks. Beefy pins are arranged in rows of hexagon-shaped pods down the center of the tire, while the smaller outer tread is made up of connected chains of pins. The step-pin design helps support the tall pins while your buggy carves through loose dirt, providing excellent forward grip and braking stability.
The Hex Shot is made with Pro-Line's latest generation carcass shape for improved bump handling, while the large pin design gives you the longevity for main events. Don't get caught spinning your tires in the dirt, be the first at your track to win with Pro-Line's Hex Shot!
Please note: All tires & wheels are sold in pairs, unless otherwise noted
PRO907302 | Hex Shot M3 (Soft) Off-Road 1/8 Buggy Tires (2) for Front or Rear
Features
Hexagon-shaped Pod Tire Design Concept
Extra Tall Pins for Loose & Loamy Conditions
Long-Lasting Closed Cell Inserts Included
Made in the USA, since 1982
Fits
1/8 Buggy Wheels Front or Rear
Product Specs
Package Type
Tires and Inserts
Track Surface
Race Loose Packed - Watered
Wheel Position
Front/Rear
Inner Tire / Outer Wheel Diameter
3.3 in
Product Width
1.68" (43 mm)
Insert Material
Closed Cell
Product Height
4.35" (110 mm)
Quantity Option
2 in a package