Pro-Line Racing -
Item No.
PRO360300
1/8 Axis Clear Body for TLR 8ight-X/E 2.0
Modern Cab Forward Design
Front Wing Included for Added Steering Response
Enhanced Downforce and Jumping Stability
Fits both Nitro and Electric 8ight™-X 2.0
Made in the USA, since 1982
(1) Axis Clear Body for TLR® 8ight™-X/E 2.0
(1) Window Masks Material
(1) Decal Sheet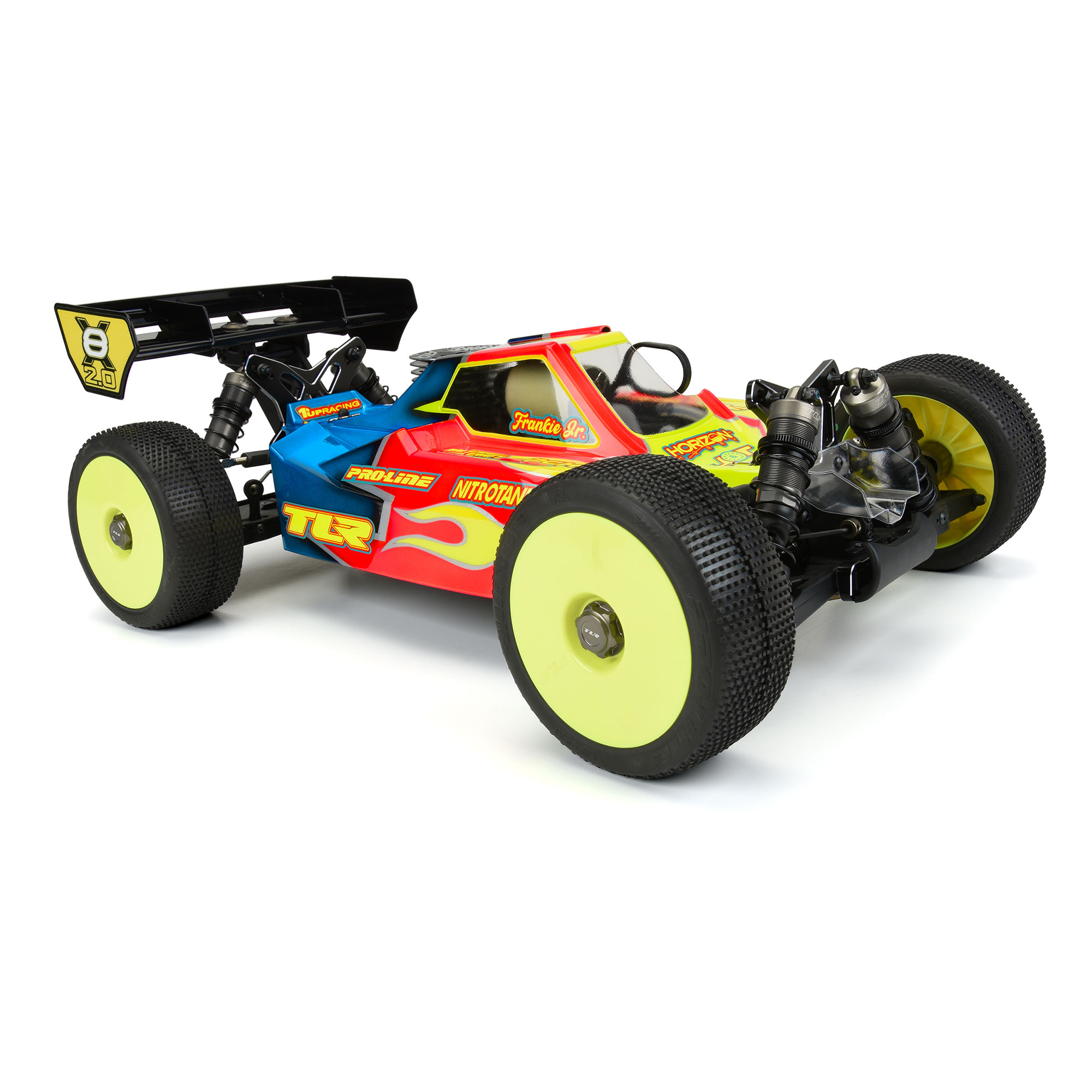 Overview
Introducing the popular Axis style race body for TLR® 8ight™-X/E 2.0. The Axis series of race bodies is a clean-sheet design from Pro-Line and brings a fresh new look to the class. Designed with the latest in CAD technology, the Axis is a modern cab-forward design that provides enhanced downforce and jumping stability, while the included front wing adds steering response. This Axis fits both the nitro and electric configurations of the 8ight™-X 2.0, with plenty of clearance for all servo linkages and a full-size 4S battery.
Don't forget to submit your finished Pro-Line body to Reader's Rides when you are done. Who knows, you could get your ride posted on the blog and you could even win a prize!
This is sold as a clear and unpainted body. Image of the painted body is only to display details. No vehicle chassis is included with this product.
PRO360300 | Axis Clear Body for TLR® 8ight™-X/E 2.0

Features
Modern Cab Forward Design
Front Wing Included for Added Steering Response
Enhanced Downforce and Jumping Stability
Fits both Nitro and Electric 8ight™-X 2.0
Full-Size 4S Battery Compatible
Paint-then-peel Overspray Film Built-in
Made with Crystal Clear Polycarbonate
Made in the USA, since 1982
Four Steps to Race Ready
Clean Body and apply included window mask
Paint then peel the over-spray film off
Sticker your body (decal sheet included)
Mount your new body onto your Buggy
Fits
TLR® 8ight™-X/E 2.0 (TLR04012)
Product Fitments
No results for your given fitment filters