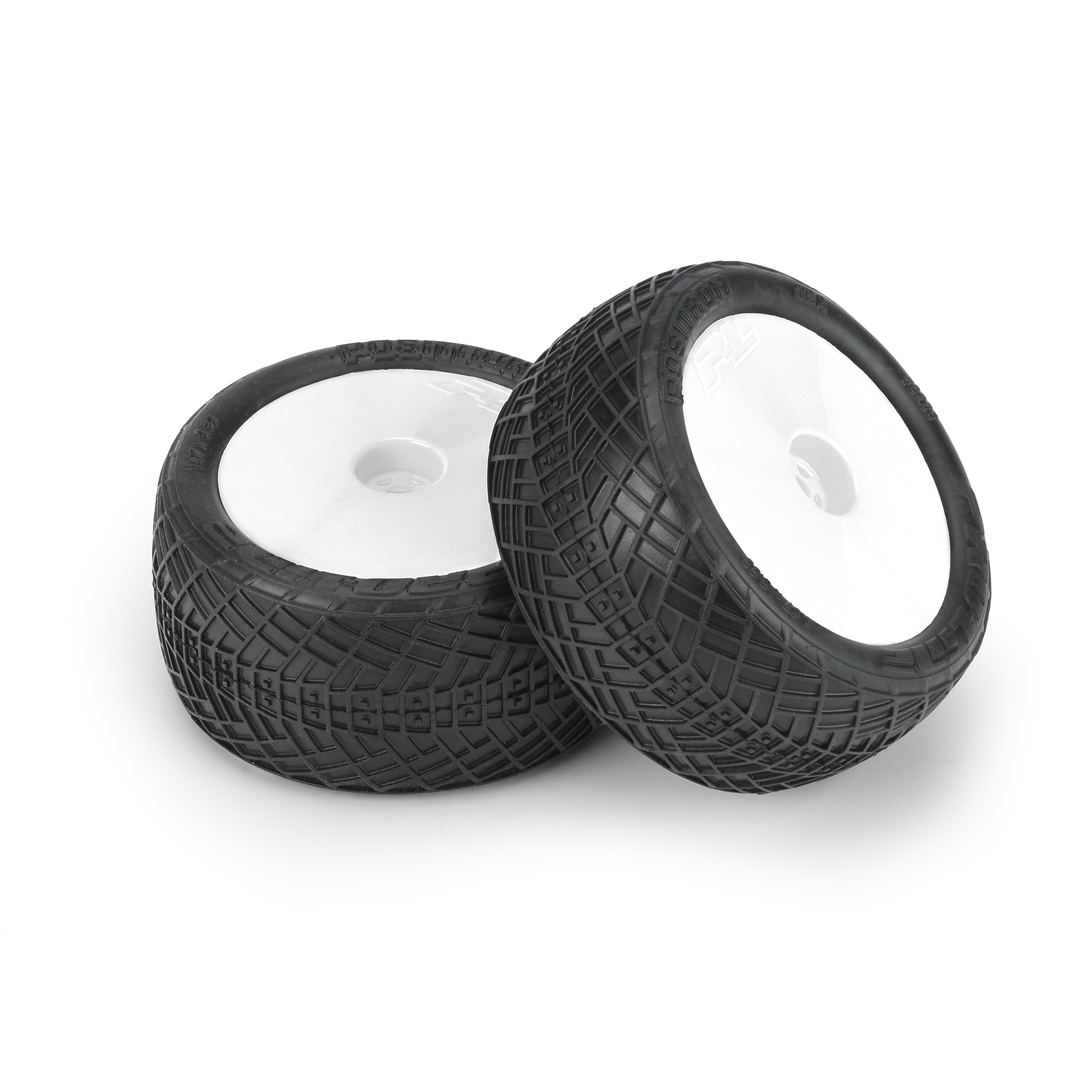 Features:
TIRE FEATURES
Pre-Mounted by the Pros at Pro-Line
Futuristic Directional Tread Design
Angled Connected Bars for Maximum Forward Bite & Unmatched Corner Speed
Improved Tire Wear Over Previous Race Tires
Tune Performance by Choosing Tire Direction
Outlast the Competition
Made in the USA, since 1982
WHEEL FEATURES
Ultra-lightweight Design
Latest in Wheel Styling and Performance
Made from Durable Nylon Material
Made in the USA, since 1982
Overview:
Pro-Line now has the popular Positron 2.2" rear tire pre-mounted on buggy rear wheels! The Positron is the standard when it comes to buggy rear tire performance on indoor tracks. Designed from the ground up with an all-new carcass shape and futuristic directional tread design, the Positron delivers true next-generation performance with improved grip and corner speed on indoor clay tracks. The Positron is directional, which adds another tuning option for the racers always looking for that extra edge since it will perform differently depending on which direction it is run.
Pre-Mounted by the pros at Pro-Line to get you out on the track faster than ever!
Pro-Line has you covered with lightweight and durable rear racing wheels for 1:10 Buggies. This Wheel features the latest in style and performance that will make your buggy look good racing around the track. The wheels feature a reversed dish design that protects the nut and axle from damage during collisions and brings an awesome new look to your buggy. Get your own set of pre-mounted Positron tires now!
Please note: All tires & wheels are sold in pairs, unless otherwise noted
Check out the Video:
Fits:
Kyosho RB7 Rear
Associated B74 Rear
Associated B6 Rear
TLR® 22 5.0™ Rear
TLR® 22X-4™ Rear
Tekno EB410 Rear
Other 1:10 Buggy Rears with 12mm Hex
What's Included:
Positron 2.2" Buggy Rear Tires Mounted on White Buggy Rear Wheels (2 pcs)
Specifications:
| | | |
| --- | --- | --- |
| Height: | | 3.33" (85mm) |
| Width: | | 1.67" (42mm) |
| | | |
Product Fitments
No results for your given fitment filters
Product Specs
Insert Material
Closed Cell
Product Height
3.33" (85 mm)
Quantity Option
2 in a package
Track Surface
Indoor Clay
Inner Tire / Outer Wheel Diameter
2.2 in
Product Width
1.67" (42 mm)