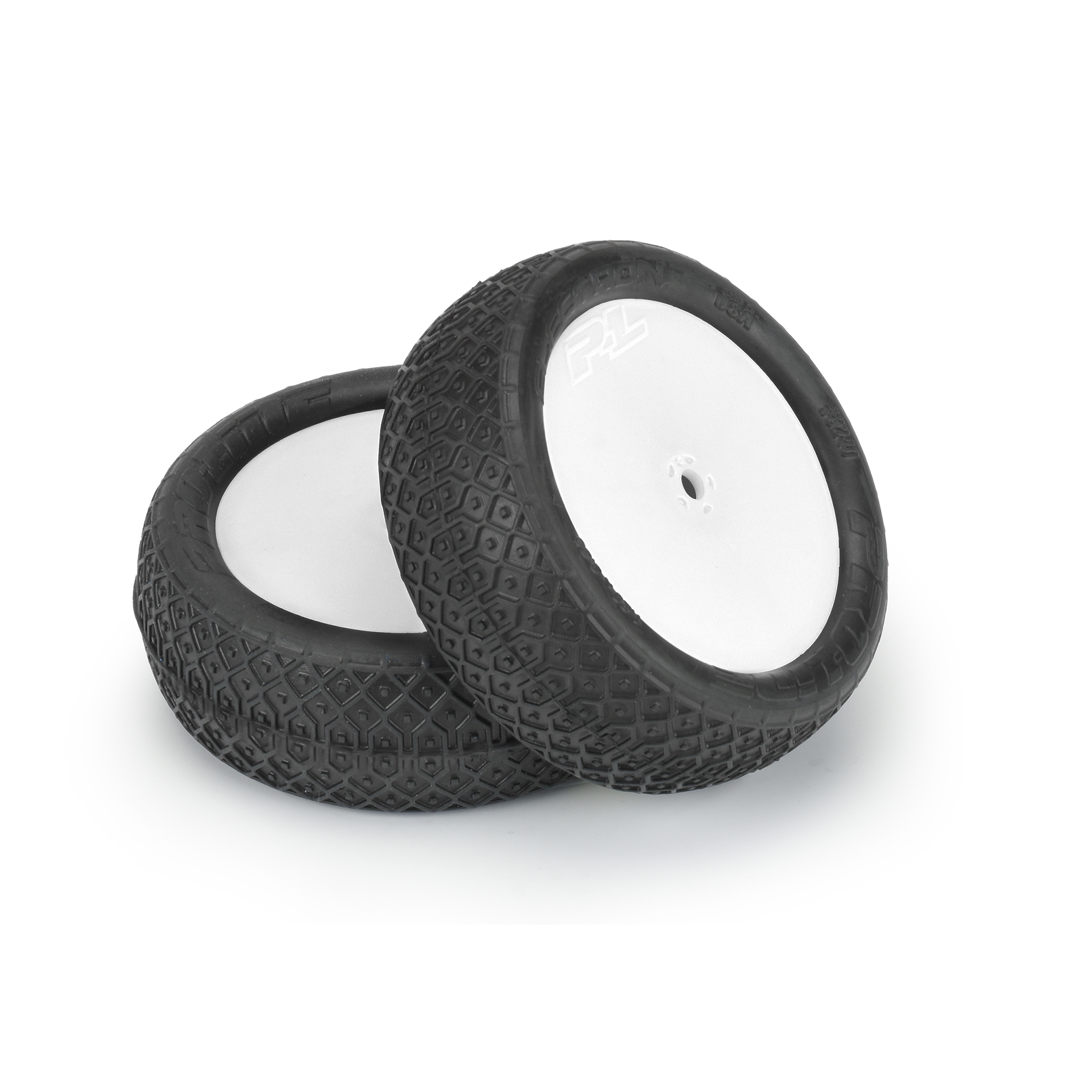 Features:
TIRE FEATURES
Pre-Mounted by the Pros at Pro-Line
Connected Tire Tread Technology
Perfect Tire for Indoor Abrasive Surfaces
Improved Traction and Wear
Consistent Forward and Side Bite
Precision Steering and Corner Speed
Includes Closed Cell Foam Inserts
Made in the USA, since 1982
WHEEL FEATURES
Ultra-lightweight Design
Latest in Wheel Styling and Performance
Stiffer Than Stock for a More Precise Feel
Spins True for Exceptional Performance
Made from Durable Nylon Material
Made in the USA, since 1982
Overview:
Pro-Line now has the popular Electron 2.2" 4WD Front tire pre-mounted on TLR® 22X-4™ & XB4 wheels! The Electron is the standard when it comes to 4wd front tire performance on indoor tracks. The Electron features connected tire tread technology to improve traction and wear on even the most abrasive of indoor track conditions. The square center pins laid out between the connected tread provide consistent forward and side bite even when the track gets dusty. Test drivers are amazed at the precision steering and super-fast corner speed that the Electrons provide.
Pre-Mounted by the pros at Pro-Line to get you out on the track faster than ever!
Pro-Line has you covered with lightweight and durable front racing wheels for the TLR® 22X-4™ & XB4 Buggies. This Wheel features the latest in style and performance that will make your buggy look good racing around the track. The wheel is stiffer than stock for a more precise feel and will spin true for exceptional performance. Get your own set of pre-mounted Electron tires now!
©2020 Pro-Line Racing. TLR® and 22X-4™ are trademarks or registered trademarks of Horizon Hobby®, LLC. All other trademarks, service marks and logos are property of their respective owners.
Please note: All tires & wheels are sold in pairs, unless otherwise noted
Fits:
TLR® 22X-4™ Front
Xray XB4 Front
What's Included:
Electron 2.2" 4WD Buggy Front Tires Mounted on White TLR® 22X-4™ & XB4 Wheels (2 pcs)
Specifications:
| | | |
| --- | --- | --- |
| Height: | | 3.30" (85mm) |
| Width: | | 1.26" (28mm |
| | | |
Product Fitments
No results for your given fitment filters
Product Specs
Inner Tire / Outer Wheel Diameter
2.2 in
Product Width
1.26" (32 mm)
Insert Material
Closed Cell
Product Height
3.3" (84 mm)
Quantity Option
2 in a package
Track Surface
Indoor Clay