Team Losi Racing -
Item No.
TLR03016
1/10 22 5.0 2WD Buggy DC Race Kit, Dirt/Clay


Key Features
Revamped steering geometry
Super Heavy Duty Slipper (SHDS)
Laydown transmission configuration
Stiffezel suspension components
Adjustable rear shock location
Built-In Motor Fan Mount
Lightweight body
2.0 Milled aluminum chassis
Aluminum-plate rear hub
Gen3 12mm big-bore shocks
Ballast tuning options (ballast sold separately)
Many popular option parts included as standard
Needed to Complete
Motor
Electronic Speed Control
Servo
Radio System
48 Pitch Pinion Gear
Charger
Battery
Paint
Tools
What's in the Box?
(1) TLR 22 5.0 DC Race Kit: 1/10 2WD Buggy Dirt/Clay
(1) Product Manual
Overview
The 22 5.0 is the next evolution of the 22 2wd buggy platform. Optimizing the 22 5.0 specifically for dirt and clay tracks, we've been able to narrow the setup window and maximize performance. 22 4.0 nailed the rear end, maximizing adjustment and rear grip for all surfaces, but the Team Losi Racing® development team knew the 22 5.0 could still be improved. Turning focus to the front suspension, we found a way to make the 22 5.0 significantly easier to drive while still giving the car more mid-corning steering.
The 22 5.0 takes the 22 Platform to the next level, and will take to you to the top of the podium!
Revamped Steering Geometry
The 22 5.0 is the best driving 2WD buggy Team Losi Racing has ever created and the biggest improvement comes from the steering geometry. Increasing the length of the steering bell cranks and spindle arms, along with changes to the Ackermann angle give the 22 5.0 a significantly smoother steering feel, especially off-center and high speed, while increasing low-speed steering for tighter tracks and 180's.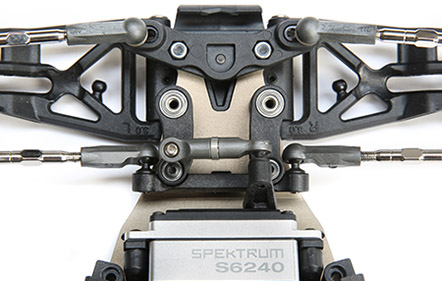 Super Heavy Duty Slipper (SHDS)
The slipper is optimized with all new slipper plates, slipper pads, spring, spur gears, and an all new top shaft. The new top shaft uses a sturdy M4 lock nut, the new slipper pads allow for spur gears sized 69T to 84T, reduced slipper pad area provides a more linear slip through the throttle application, and thicker slipper plates keep consistent pressure across the surface of the slipper pads.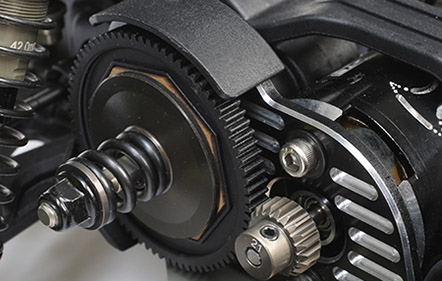 Gen3 12mm Big Bore Shocks
The G3 shocks have been completely revamped and improved. The main performance improvement comes from changing to a 3.0mm shock shaft diameter, the 22 5.0 feels "alive" around the track while also landing better with an improved compression/rebound balance. Other improvements include: Screw mounted pistons, new molded shock caps, thinner shock collar which give 3mm more spring adjustment, locking eyelets and spring cups, -3mm, 0mm and 4mm spring cups, new easy to install shock end balls, standard and +2mm length eyelets.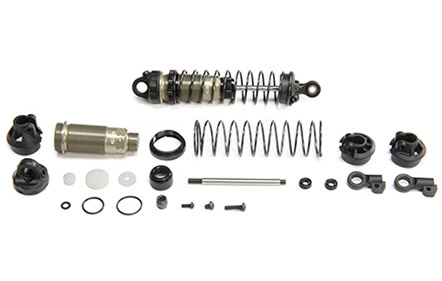 Option Parts Included
The 22 5.0 includes a healthy list of included option parts: Aluminum Ball Stud Washers throughout, Aluminum Clamping Hexes, Aluminum Front Axles, Aluminum Rear Camber Block, Carbide Diff Balls, Full Machined Shock Internals, TLR Low Frequency Springs, Adjustable Rear Toe Plate, and Anti-Squat Block.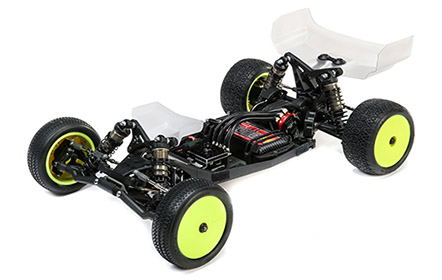 2.0mm Milled Aluminum Chassis
Changing from the 2.5mm thick chassis plate, the 22 5.0 has been improved with a 2.0mm thick chassis plate. The thinner chassis provides more flex and grip, making the 22 5.0 easier to drive and less prone to flipping, as well as absorbing bumps and round landings far better.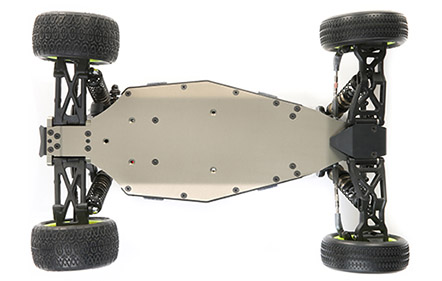 Fully Updated Ball Differential
Using all of the revised components from the 22 2.0 ball differential, the 22 5.0 diff delivers super-smooth, long-lasting performance. New improvements include a larger diameter diff screw, harder, longer lasting thrust washers, and a stiffer slipper spring for improved durability and thrust assembly life. Other features include tungsten carbide diff and thrust balls, a one piece nut, and a self-centering diff gear.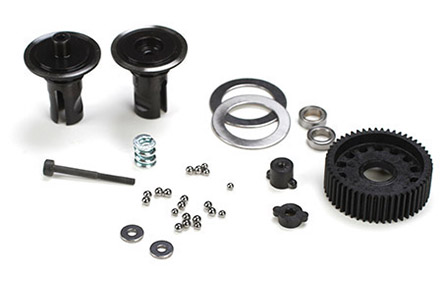 Lightweight 22 5.0 Body
Maintaining the excellent balance, grip, and stability of the 22 4.0 body with a similar styling, the 22 5.0 Lightweight (LW) body is pulled from 0.7mm PC plate to keep the center of gravity (CG) low, and the static weight even lower. As with all TLR bodies, the body will be precut in the kit.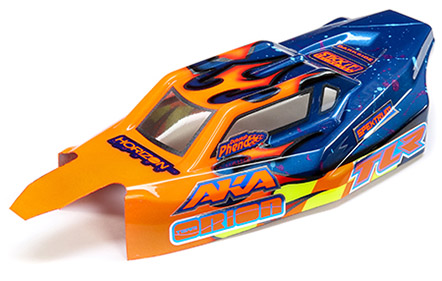 TLR Front Wing Included
With the higher speed, higher grip tracks of today, a front wing will increase steering in high speed turns and on power, while making the steering on entry smoother - the best of all worlds. And, it's included in the kit.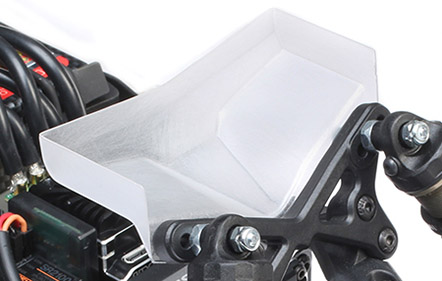 Wheels Included
TLR Kits still include a full set of fluorescent yellow wheels to get racers on the track quickly. The 22 5.0 does include the new Stiffezel front wheels which provide more consistent front grip, and more steering in high load turns.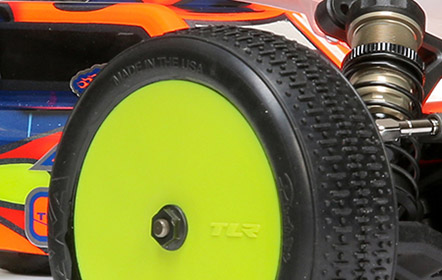 All Metric Hardware
Using all metric hardware make it easy to find replacement screws, nuts and washers, and helps to limit the number to tools required in the toolbox.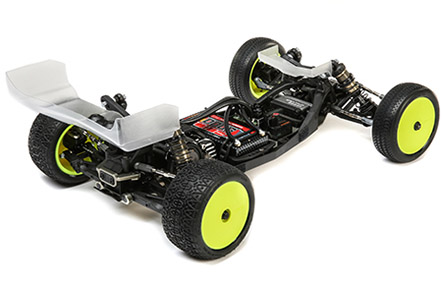 Diff Height Adjustment
The 22 4.0 included diff height adjustments including 0 and +3.5mm settings. The 22 5.0 SR includes 0 and +1mm heights to optimize bone angle and bone plunge for different grip levels on clay. +1.75mm, +2.5mm and +3.5mm diff inserts will also be available.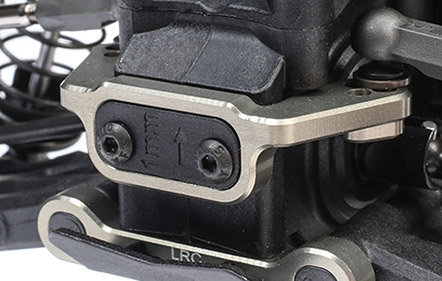 Front Roll Center Adjustment
The 22 5.0 includes the standard Low Roll Center (LRC) front pivot with kick shim in the kit and offers the optional High Roll Center (HRC) front pivot separately. Also included in the kit is a new 1mm thick kick shim which allows for incremental adjustments. Now, racers can run the Super Low Roll Center, Low Roll Center, Medium Roll Center, or High Roll Center, with a 3mm adjustment window.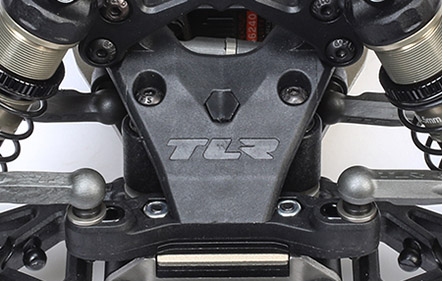 All New Front Camber Block
The new front camber block adds a third camber link option between the tradition inside and outside holes. The new position provides the best balance of steering and stability in many conditions, and allows the 22 5.0 to be more dialed-in on different grip levels.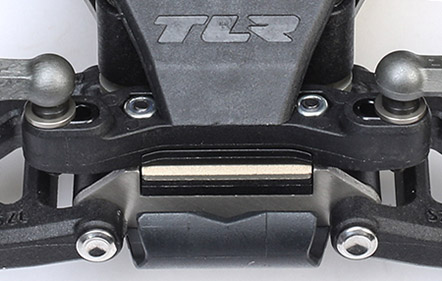 All New Battery Hold Down
The 22 5.0 boasts the most versatile and easiest to use battery hold down system. The battery cradles key into the mud guards for five fixed, and easy to replicate, battery positions. The battery is then held down with elastomer straps on each end that can stretch to fit any height shorty battery and any weight plates under it. Best of all, the battery is out in no time flat and back in just as easily.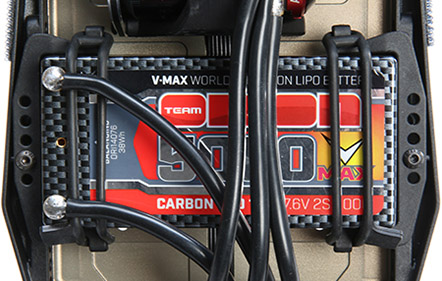 Optimized Composites, Stiffezel
The balance and consistency of the 22 5.0 can be tuned using different composite materials in key parts throughout the vehicle. The kit included the parts the race team prefers: Stiffezel front suspension arms, standard rear suspension arms, soft mud guards, and standard waterfall.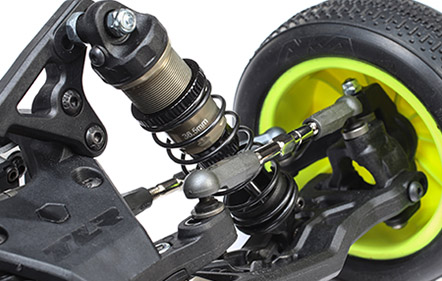 Adjustable Rear Shock Location
The rear shock tower can be flipped for a forward or rearward bias. This means the Gen3 rear shocks can be mounted in front of the rear tower and suspension arm, or in the traditional location on the back of the arm. This is a popular tuning option for high-grip surfaces that increases forward weight bias, rear end stability, and landing ability.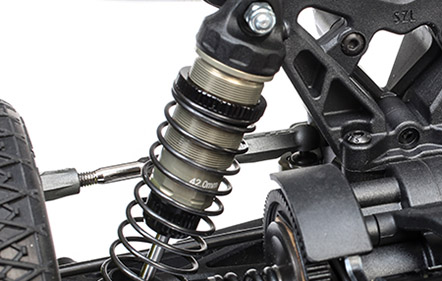 Aluminum-Plate Rear Hub
The molded-composite hub base allows a bearing to be press fit without play and minimal un-sprung weight. An aluminum plate is secured to the hub with an M3 screw and ball stud which is vertically adjustable. Now the ball stud is supported by aluminum from pushing or pulling out, while still threading into composite so it won't work loose.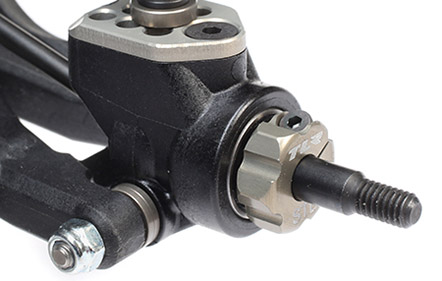 Ballast Tuning Options
Optional brass ballast weighs can be mounted under the battery, and under the laydown transmission idler. This makes it easy to tune the static weight and weight bias for changing track conditions. When running a higher static weight, the chassis will become more neutral and easier to drive on ultra-high-grip surfaces.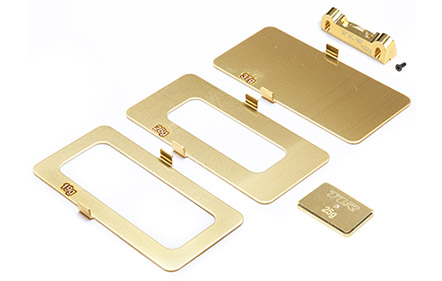 TLR 6.5" Rear Wing
Pulled from ultra-durable 1.2mm polycarbonate, the TLR 6.5" rear wing isn't new for the 5.0. Instead, this wing has proven itself as the longest lasting and most stable rear wing available for 1/10 2wd buggies over the past few years - and it comes in the kit.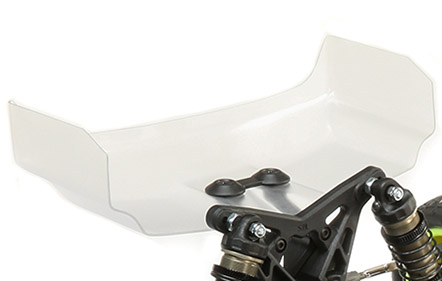 Built-In Motor Fan Mount
The prevalence of spec racing has led to the need for many racers to run motor fans to keep temperatures lower. Rather than an aluminum mount, or double-sided tape, the 22 5.0 includes a molded fan mount secured to the mud guard for easy and dependable fan mounting.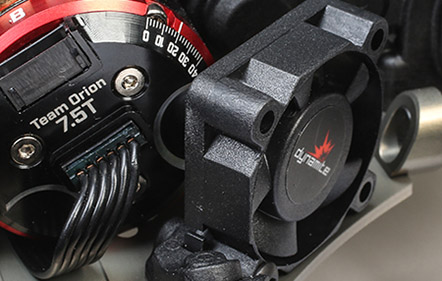 68mm Driveshafts Included
A popular tuning option for the 22 4.0, 68mm driveshafts let the driveshaft pin sit further inside the outdrive cup, for less bone lock. This allows the rear end to roll more on-power improving on-power steering and rear stability exiting corners.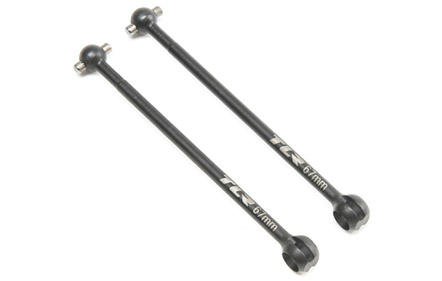 Laydown Configuration
The laydown 3-gear transmission moves the motor forward by 20mm+ to a more centralized location. The benefit is a chassis that drives much flatter and carries more corner speed.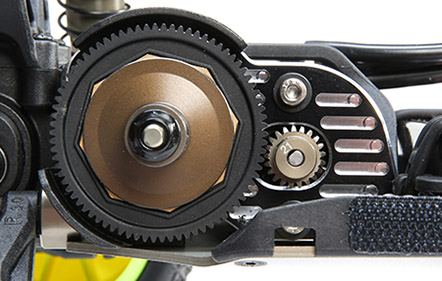 Product Specs
Product Width
9.8 in (250mm)
Rear Track
9.8 in (250mm)
Approximate Assembly Time
3-5 Hours
Body
22 5.0 Cab Forward, 0.7mm LW
Brakes
Controlled via Motor/ESC
Ball Bearings
Full Rubber Sealed Ball Bearings
Chassis
2mm Milled Plate, 7075-T6 Aluminum
Product Height
5.8 in (148mm)
Differential
Ball Differential
Shock Type
12mm Big Bore, Oil Filled
Wheel Type
22 Dish, 12mm Hex
Internal Gear Ratio
2.43:1
Product Length
15.0 in (382mm)
Suspension
Lower A-Arm, Upper Adjustable Link