Team Losi Racing -
Item No.
TLR03014
1/10 22 4.0 SR 2WD SPEC Buggy Race Kit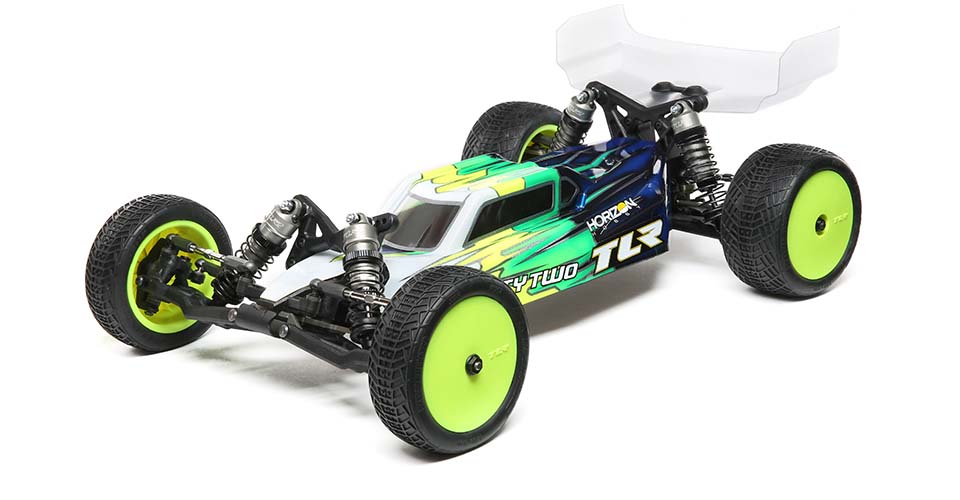 The 17.5 buggy spec-class is the biggest class in electric off-road racing and perhaps all of RC today. A fully optimized buggy with a specific focus on stock racing is required to be competitive at the top end of the category, and the TLR®22™ 4.0 SPEC-Racer delivers such a buggy, right out of the box.
The 22 4.0 SPEC-Racer kit takes the drastic improvements made in the on-track performance of the new 22 4.0 and maximized the drivetrain for spec racing. Sounds simple, right? NO! That's because our goal was to turn the weight loss requirement into a performance gain opportunity. For starters, the car has shed weight by replacing carefully chosen stock 22 4.0 parts. The transmission boast the biggest gains where a Direct Drive System with a shortened top shaft, an aluminum diff with composite outdrives and aluminum CVA driveshafts with lightened steel axles has minimized overall weight and rotating mass.
In true TLR fashion, handling was a particular focus. A laydown transmission moves the motor forward by 20mm+ to a central motor location and provides two diff heights-standard 3.0mm and +3.5mm for carpet and Astroturf. This creates a chassis that drives much flatter, more consistent and corners quicker, especially on throttle which is critical for spec racing.
All told, the 22 4.0 SPEC-Racer weighs in under the ROAR minimum weight of 1499g, with no modification. But it's the moment you hit the track when the advantages becomes clear. Front to back, the 22 4.0 SPEC-Racer is more capable of competing for wins right out of the box than any other stock 1/10 2WD buggy in its class.

Needed to Complete
Motor
Electronic Speed Control
Servo
Tires
Radio System
48 Pitch Pinion Gear
Charger
Battery
Paint
Tools
What's in the box?
(1) TLR® 22™ 4.0 SPEC-Racer Kit
(1) User Manual
Weighs in Under 1499g
There's no need for titanium hardware to make minimum ROAR weight. The 22 4.0 SPEC-Racer, when built with the kit hardware and the recommended Orion® and Spektrum™ electronics weighs under 1499g when ready to hit the track.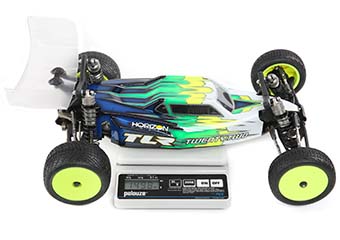 Laydown Configuration
The 3-gear laydown transmission moves the motor forward by 20mm+ to a central motor location, providing a chassis that drives much flatter, more consistent and corners quicker-a crucial advantage in the 17.5 spec buggy race class.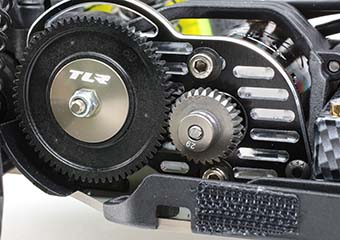 Lightweight Drivetrain
To maximize the top speed and performance of a stock motor, the drive train has been lightened with a Direct Drive System including a shortened top shaft, narrower idler and diff gears, aluminum diff hubs with composite outdrives and aluminum CVA driveshafts.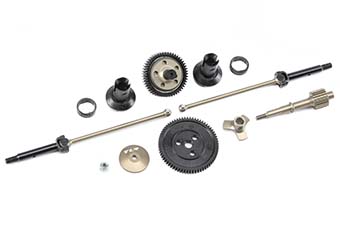 Stiffezel Suspension Components
The higher glass content of Stiffezel molded composite is strategically used on suspension components to provide more consistent and stable driving. This includes the front and rear suspension arms, mud guards and the waterfall chassis brace. The result is a buggy that lands plushly and corners more consistently.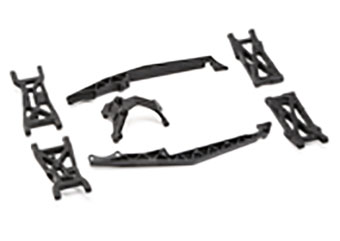 Adjustable Rear Shock Location
The rear shock tower can be flipped for forward or rearward mounting. This means the Gen II rear shocks can be mounted in front of the rear tower and suspension arm, or in the traditional location on the back of the arm. This is a popular tuning option for high-grip surfaces that increases forward weight bias, rear end stability and landing ability.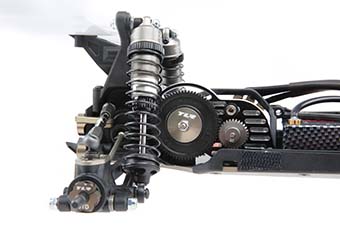 Gen II 12mm Big Bore Shocks
These shocks continue to set the standard for high performance and easy maintenance. Features include X-Ring Seals, machined shock bushings, machined 2mm x 1.6mm and 2mm x 1.7mm pistons, TiCN coated shock shafts, aluminum bleeder screw caps, hard-anodized threaded shock bodies, low-frequency springs and spring cups that snap onto the shock shafts.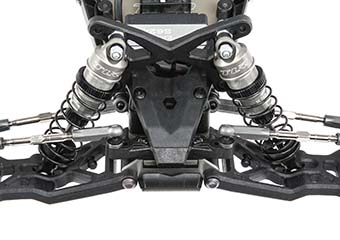 Aluminum-Plate Rear Hub
The molded-composite hub base allows a bearing to be press fit without play and minimal unspring weight. An aluminum plate is secured to the hub with an M3 screw and ball stud which is vertically adjustable. That way, the ball stud is supported by aluminum from pushing or pulling out, while still threading into composite so it can't work loose.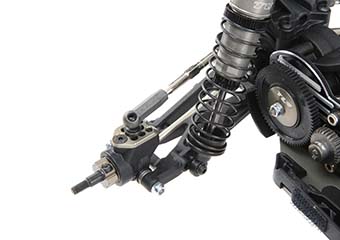 Ballast Tuning Options
When running a higher static weight, the chassis is more neutral and easier to drive on ultra-high-grip surfaces. Optional brass ballast weights (sold separately) can be mounted under the servo, under the electronics and under the laydown transmission idler. This makes it easy to tune the static weight and weight bias for changing track conditions.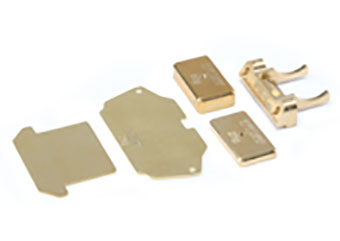 Lightweight 7075-T6 Aluminum Chassis
The chassis can accommodate multiple battery mounting options. Milled pockets have been added that lighten the overall weight of the chassis. The pockets also function as mounting stations for the optional brass ballast weights (sold separately).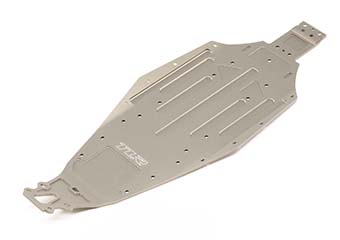 Included Option Parts
The 22 4.0 SPEC-Racer kit comes loaded with optional upgrades like a milled 7075 aluminum top shaft, motor plate, rear camber block, clamping rear hexes and ball stud spacers throughout. It also includes aluminum bleeder shock caps, machined shock pistons and internals.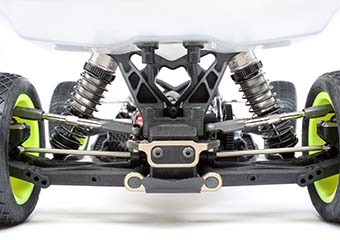 Ultra-Lightweight Body
An all-new, low-profile body was designed for the 22 4.0 buggy that provides outstanding aerodynamic performance. For the 22 4.0 SPEC Racer, the body is pulled from 0.5mm polycarbonate to significantly save weight and maintain outstanding performance.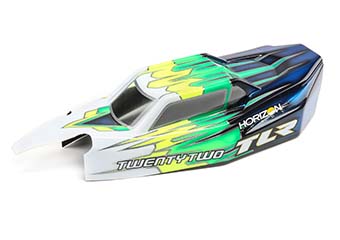 Product Specs
Rear Track
9.8 in (250mm)
Wheelbase
11.0 in (280mm)
Differential
Composite-Aluminum Ball Differential
Shock Type
12mm Big Bore, Oil Filled
Internal Gear Ratio
2.43:1
Motor Size
540 (not included)
Product Length
15.0 in (382mm)
Product Weight
Varies with equipment
Front Track
9.8 in (248.5mm)
Inner Tire / Outer Wheel Diameter
2.2 in (56mm)
Product Width
9.8 in (250mm)
Radio
2 Channel (Required)
Ball Bearings
Full Rubber Sealed Ball Bearings
Chassis
2.5mm Milled Plate, 7075-T6 Aluminum
Product Height
5.8 in (148mm)
Approximate Assembly Time
3-5 Hours
Body
22 4.0 Cab Forward, 0.5mm ULW Clear
Brakes
Controlled via Motor/ESC
Suspension
Lower A-Arm, Upper Adjustable Link